Arran 10 year old Single Malt
The classic expression of Arran - our fresh and unique island style is captured beautifully in our 10 Year Old Single Malt. And we are delighted to present it for autumn 2019 in a brand new pack!
Gold medal at the World Whiskies Awards 2019
Gold medal (95 points) at the International Wines & Spirits Competition 2019
Double Gold Medal winner at San Fransisco World Spirits Competition 2018
The China Wine & Spirits Best Value Awards 2014
Gold Medal Winner, San Fransisco World Spirits Competition 2012
It is without doubt a 'must have' in the collection of all Single Malt Whisky enthusiasts. One of the 20 defining whiskies of the past 20 years (Malt Advocate 20th Anniversary Issue 2011)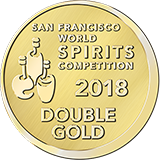 Appearance

Ripe Golden Barley

Aroma

The initial rush of rich vanilla sweetness gives way to a touch of cinnamon which adds a spicy edge to the soft and sweet texture. The classic Arran citrus notes have rounded with age and reveal new depths of character against a background of sweet oak.

Taste

Sweetness, Apple, Citrus, Cinnamon.