Buy a Whisky Cask
If you're a fan of Arran Single Malt, you may be interested to know that we are able to offer people the unique opportunity to purchase selected casks filled at our Lochranza Distillery. Casks of new spirit can be purchased and matured on our beautiful island for a number of years, giving you the perfect reason to come and visit us!
Would you like to own your very own Arran cask?
Every cask of whisky we make is unique - and now you can put your name on one. Buy a barrel or hogshead of new Arran spirit from our Lochranza Distillery and we'll mature it for you on our beautiful island for your chosen number of years, then give you advice on where to have it bottled when the time is right. You could even come to visit your whisky during the long, slow years it spends ageing to perfection.
A splendid way to secure a personal supply of our award-winning whisky, a cask could also be a fine gift to mark a special occasion for an individual, family, business or organisation.
If you are interested in purchasing a cask of new-fill Lagg Whisky from our sister distillery please visit the Lagg Whisky website.
SPECIAL OFFER FOR JUNE 2020
As many of you know, Isle of Arran Distillers Ltd are celebrating 25 years of our Lochranza Distillery this year, and our birthday falls on 29th June.
To celebrate, we are offering a fantastic deal on the purchase of one of our First Fill Ex-Bourbon Barrels for the entire month of June.
With every Bourbon Barrel purchased, you will be gifted a mixed case of American oak influenced Arran Single Malts from our award winning core range of whiskies worth £250! You will receive 2 bottles each of Barrel Reserve, 10 Year Old & Quarter Cask – to sample as you wait for your own barrel to mature. An instant lockdown supply to enjoy at home and get a real flavour of how our whisky matures in a Bourbon cask. Definitely project to nurture, enjoy being part of and look forward to seeing develop over the years!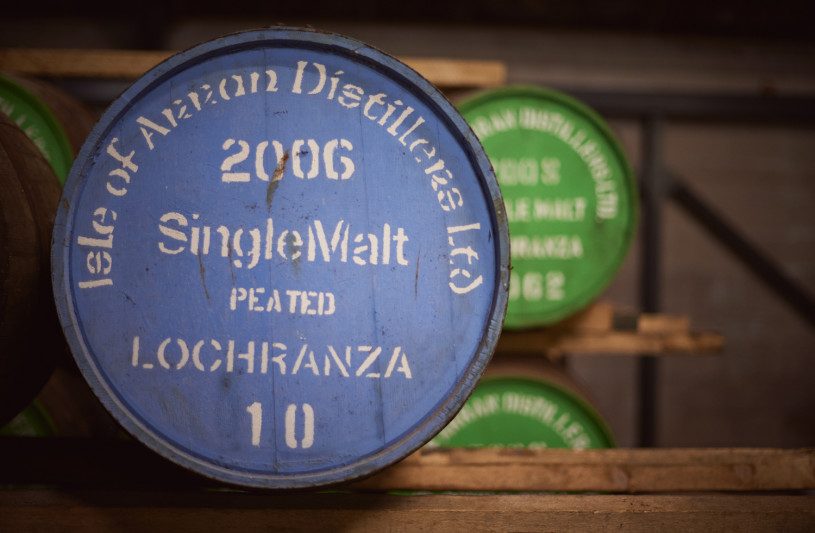 Arran Whisky Cask Offer 2020
All the costs associated with purchasing a cask of new fill spirit from our Lochranza Distillery can be found here.