Our Distillery
Ours is the only working distillery on an island that was once home to many of the illicit stills on the west coast of Scotland. This is where we distill the unique character of Arran - known as Scotland in miniature - into an incomparable whisky.
Visit Us
Our Visitor Centre was awarded Scottish Field Magazine's Visitor Experience of the Year 2014 & 2015. We were also awarded 'Best Contribution to Wine & spirits Tourism' by prestigious magazine 'The Drinks Business' in 2017. We were also awarded the ASVA award for Best Visitor Attraction in 2018 (Assiciation of Scottish Visitor Centres) a hige accolade for our team. We are very proud of our award-winning team and guarantee a wonderful, personal welcome to our home. As well as tours, our CASKS Cafe is an excellent place to relax and enjoy a well-earned coffee, or indeed something stronger. We support Visit Scotland's 'Taste our Best' initiative, showcasing the very best of local island produce. Hot food is served until 3.30pm.
VISITOR CENTRE OPENING HOURS
Winter Opening Hours: 10am - 4pm 7 days a week (4th November 2019 - 1st March 2020). CASKS Cafe open 10am - 3.45pm daily (last orders for lunch menu 3pm).
Summer Opening Hours: 10am - 5.15pm 7 days a week (2nd March 2020 - 1st November 2020) CASKS Cafe open 10am - 4.30pm daily (last orders for lunch menu 4pm).
Special note about our winter hours
Our winter season begins on Monday 4th November 2019 and will last until Sunday 1st March 2020. We will open again for our summer hours on Monday 2nd March 2020 (10am - 5.15pm). During this winter season we are open 7 days 10am - 4pm with CASKS Cafe open 10am - 3.45pm daily (last orders for lunch menu 3pm).
Christmas and New Year Opening Hours 2019
We will be open right throughout the festive period. We re closed only on Christmas Day, Boxing Day and on New Year's Day. We look forward to welcoming you!
January closure
Please note that we are closed from 1st January until 10th January 2020 for essential maintenance. We will re-open on Saturday 11th January 2020.
Master Craftsman
James MacTaggart
James safeguards and protects the outstanding quality of our Single Malt. Not much gets past the watchful eye of James as he carefully monitors each and every cask we produce.
Stillmen
Gordon Bloy, John Dowens, Graham Omand, John McMullen and Ben Tattersfield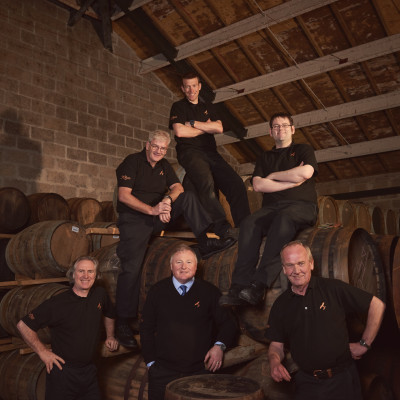 Our Stillmen work tirelessly to make sure that every step of the whisky making process goes smoothly and that there is no compromise on the excellent quality spirit that we produce. With great humour and dedication, these guys are at the heart of our operations in Lochranza.
Very informative & entertaining tour & tasting. Helpful & friendly staff. Wonderful whisky-14 year recommended! Excellent quality & range of food in cafe. Good range of products in shop. Definitely worth a visit!