Our Distillery
Production began at our first distillery in beautiful Lochranza almost 30 years ago. Many other locations were considered at the time, but the proximity to Loch na Davie provided us with a rather special source of fresh water for distilling. We knew this would hold us in good stead in the years to come. Our second distillery opened in the south of the island in 2019 at Lagg, where we make a very unique style of peated single malt.
Visit Us
Tastings and sit-in service in our cafes at Lochranza and Lagg Distilleries are available. We also have recently installed Electric Vehicle chargers in the car parks at both Distilleries so if you have an EV or PHEV you can now travel between the two places in the safe knowledge that you can charge your car! We look forward to welcoming you.
As one of the few independent distilleries in Scotland - and one that proudly follows traditional practice - we promise a particularly fascinating experience. Check our opening hours.
Learn about the art of whisky making from professional guides and enjoy a dram or two. Whisky tastings are suitable for whisky lovers and those new to Scotland's finest export.
What makes our whiskies special is simply the quality of the water on Arran, the quality of the barley we select and the skill of our talented distillers to combine the two.
Our CASKS Cafe is part of Visit Scotland's 'Taste our Best' initiative and is the perfect place to enjoy our island hospitality.
Distillery Manager
Stewart Bowman
Distillery Manager
Stewart Bowman
Stewart safeguards and protects the outstanding quality of our Single Malt. Not much gets past the watchful eye of Stewart as he carefully monitors each and every cask we produce.
Stillmen
Robbie Rhead, Stuart Gast, John McMullen, Mhairi Hartley, John Dowens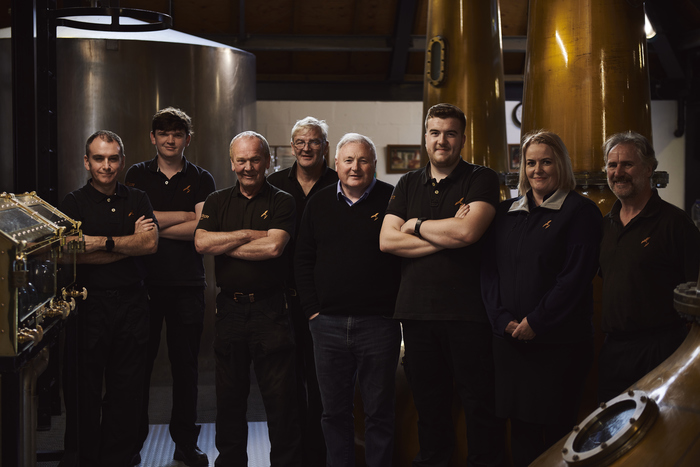 Stillmen
Robbie Rhead, Stuart Gast, John McMullen, Mhairi Hartley, John Dowens
Our Stillmen work tirelessly to make sure that every step of the whisky making process goes smoothly and that there is no compromise on the excellent quality spirit that we produce. With great humour and dedication, these guys are at the heart of our operations in Lochranza. Mhairi, our Distillery Office Manager, keeps them all in line!
Very informative & entertaining tour & tasting. Helpful & friendly staff. Wonderful whisky-14 year recommended! Excellent quality & range of food in cafe. Good range of products in shop. Definitely worth a visit!
Karen W from Switzerland (courtesy of Trip Advisor)