Visit Us
There's something magical about the alchemy of whisky making, and there's no better way to appreciate it than by visiting a distillery.
As one of the few independent distilleries in Scotland - and one that proudly follows traditional practice - we promise a particularly fascinating experience. We pride ourselves on offering the warmest of welcomes to our home village.
Beautiful distillery nestled deep in a valley of steep hills. The tour was great, Jim was very informative and made the tour fun and interesting. - Sophiemir, Trip Advisor, December 2019
***UPDATE*** 8th October 2020
*Please note* Additional restrictions are in place from Friday 9th October until Sunday 25th October.
Instead of the usual format, you will spend time with our guide as they talk you through the drams, processes and history and you will then receive your drams to take away with you in Driver's drams bottles, not for consumption on the premises. The cost of this revised tasting is slightly lower at only £10 for the tasting instead of the usual £15 and still includes the voucher for £5 off the price of a 70cl bottle of malt whisky. These arrangements are hopefully temporary whilst restrictions are in place until the end of October and are subject to change should further clarification come from the Scottish Government.
Currently, our Lochranza Visitor Centre gift shop is open 1oam - 4pm 7 days a week. Tours are not currently available, however we have a 12pm and a 2.30pm tasting available 7 days a week. These MUST be booked in advance. Read more about these tastings and how to book.
CASKS Cafe is currently still closed, however from Thursday 8th October our coffee bar downstairs is offering teas, coffees, sandwiches and a selection of soft drinks and snacks to take away. A selection of freshly prepared sandwiches are available to purchase from our Arran Malt Shop too. Please note that these are all takeaway only and that until 25th October we are unable to serve alcohol from our coffee bar. Our reception is open for general enquiries. Please email info@arranwhisky.com or call 01770 830 264.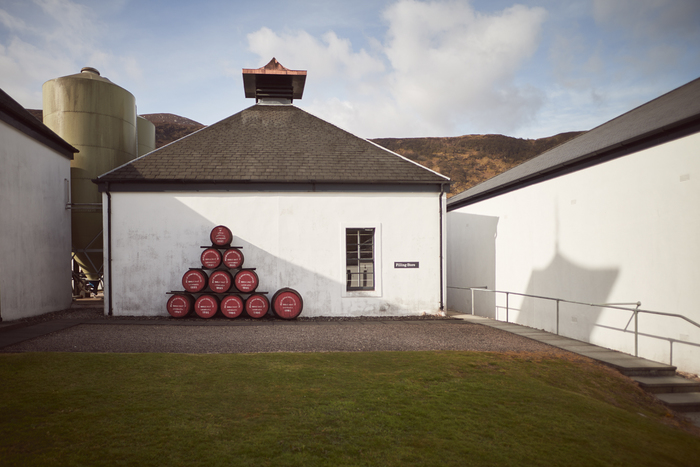 Lovely people, lovely tour lovely food. Can't rate it highly enough, it's an absolute must if you're on Arran. The tour around the distillery is top notch and the cafe is both reasonably priced and tasty.
Lewis M, November 2019, Trip Advisor