2 Sep 2019
A Breath of Fresh Arran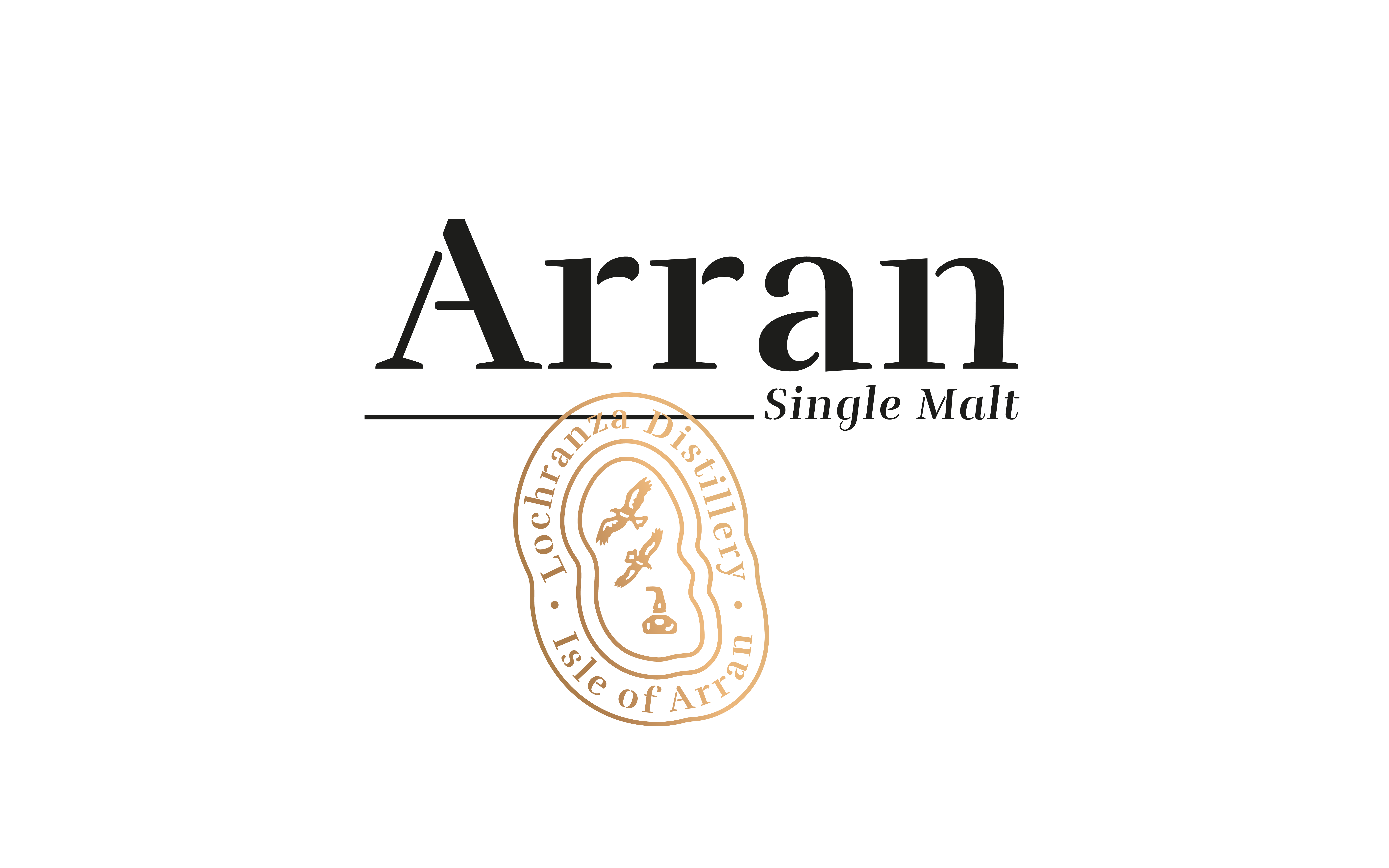 We are delighted to present a brand-new look across our core range of Single Malt whiskies from our Lochranza Distillery on the Isle of Arran, with a new Arran Single Malt and Lochranza Distillery logo!
The Arran Single Malt whiskies that you know and love have undergone a transformation into a brand-new bespoke glass bottle with new labels and gift tubes, just as we enter the last few months of what has already been an incredibly exciting year for us here at Isle of Arran Distillers Ltd.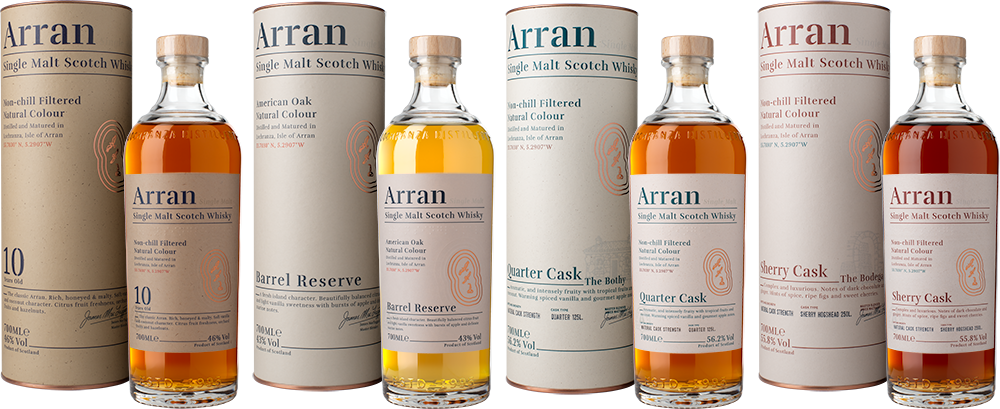 Crucially, whilst the look has changed, the liquid inside the bottle remains the same excellent Arran Single Malt that we have always bottled. Our much loved 10 year-old and Quarter Cask The Bothy expressions have kept their well earned place in our core range of whiskies, bottled at 46% ABV and cask strength 56.2% ABV respectively. They have been joined by two new enticing expressions – the Barrel Reserve which is an 100% Bourbon Barrel matured expression bottled at 43% ABV and Sherry Cask 'The Bodega' which is bottled at 55.8% ABV and the perfect cask strength Sherry matured partner to our Quarter Cask.
These four expressions are the first to take their steps in the new look packaging, and they will be joined by our aged 18 and 21 year-old Single Malts in October this year.
As the owner of two beautiful distilleries at Lochranza and Lagg on the Isle of Arran, we felt it was time to make the clear distinction between the two sides to our island home. We have chosen to draw on the natural elements and authenticity of our original island malts by focusing on the unique provenance of our home village of Lochranza.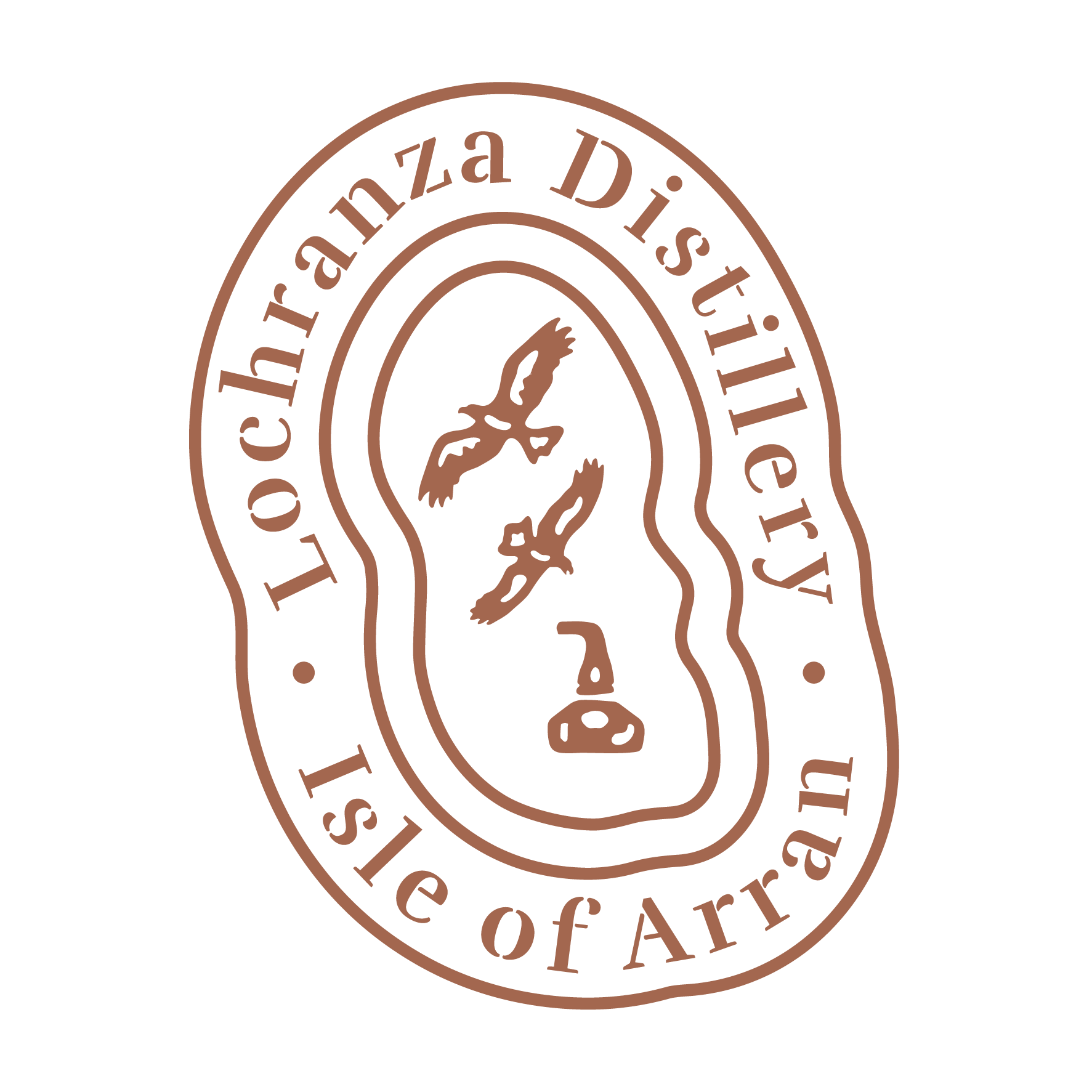 Our contemporary new bottle design reflects the journey of the water source for the Arran Single Malts, which begins in Loch na Davie and cascades towards our distillery through a series of six small mountain waterfalls, each one purifying the water a little more. The ripples on the shoulder and base of the new glass bottles illustrate this part of the process and emphasise the pure nature of the spirit.
Of course, the eagles which have always played a special part of our story in Lochranza, have not lost their place and remain front and centre on our new pack. Their nesting season prompted a break in the construction of our distillery back in 1994 and they have stayed in residence for the past 25 years. Their powerful, independent spirit has joined ours as together we have made Lochranza our home.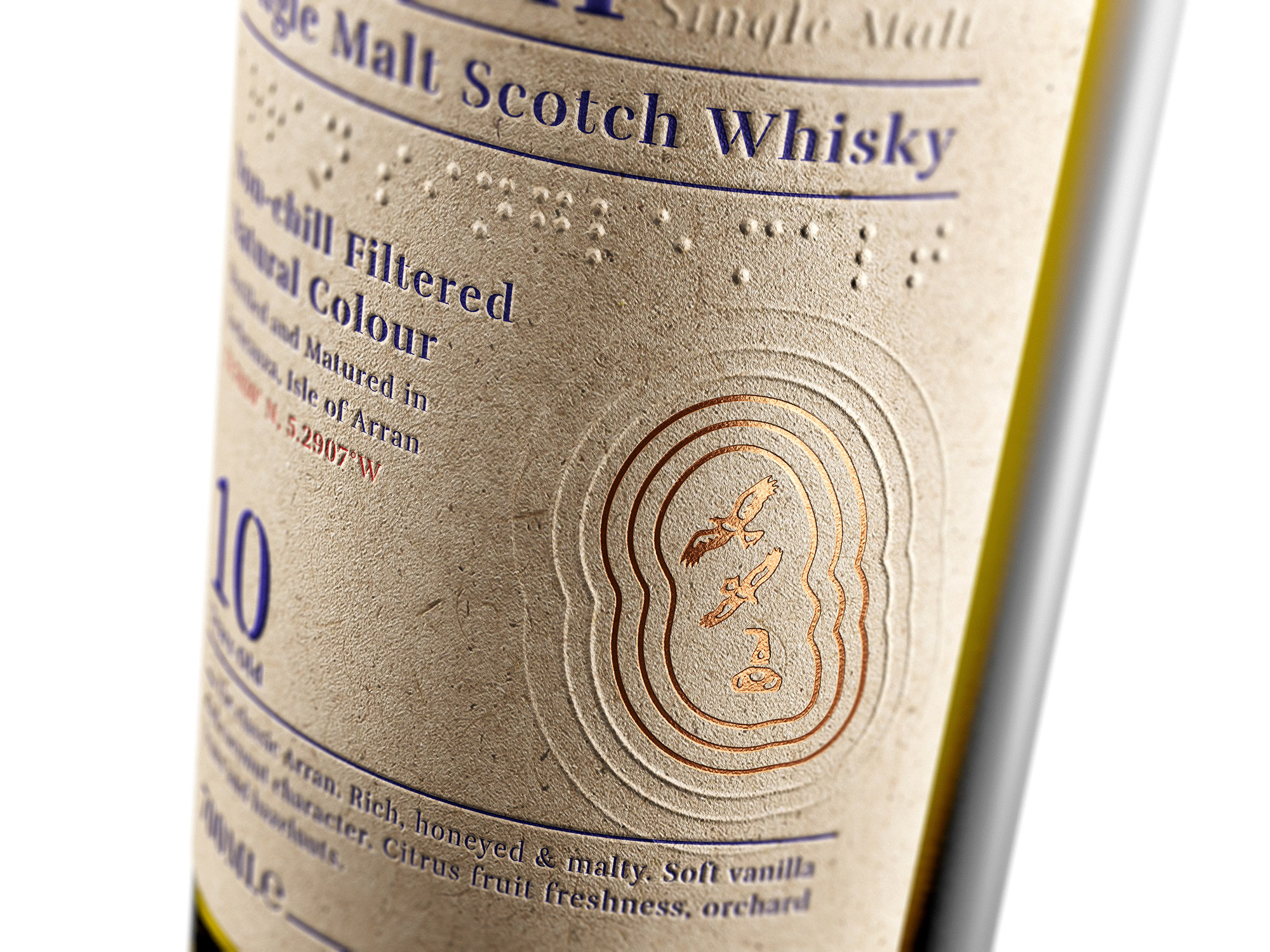 Natural materials and colour tones are used across all aspects of the pack, as well as tactile emboss and delicate foiling with clean lines in order to maintain a consistent look and feel that keeps simplicity at the core.
Our Distillery Manager James MacTaggart has said:
As a company, we have grown immensely since I joined the team over 12 years ago.
We were one of the first wave of new distillers back in the early 1990s and in June this year, we started a new chapter in our story with the opening of our second distillery at Lagg. It felt like the right time to make the clear distinction between the unique and very different spirits produced at each of our island homes.
We've taken inspiration from the elements that make Lochranza so special to produce a unique and beautiful new pack, which does justice to the liquid it contains. We are very excited about the future of our original Arran Single Malt and can't wait to share even more of our quality Single Malt across the world as we count down to our 25th Anniversary celebrations next summer.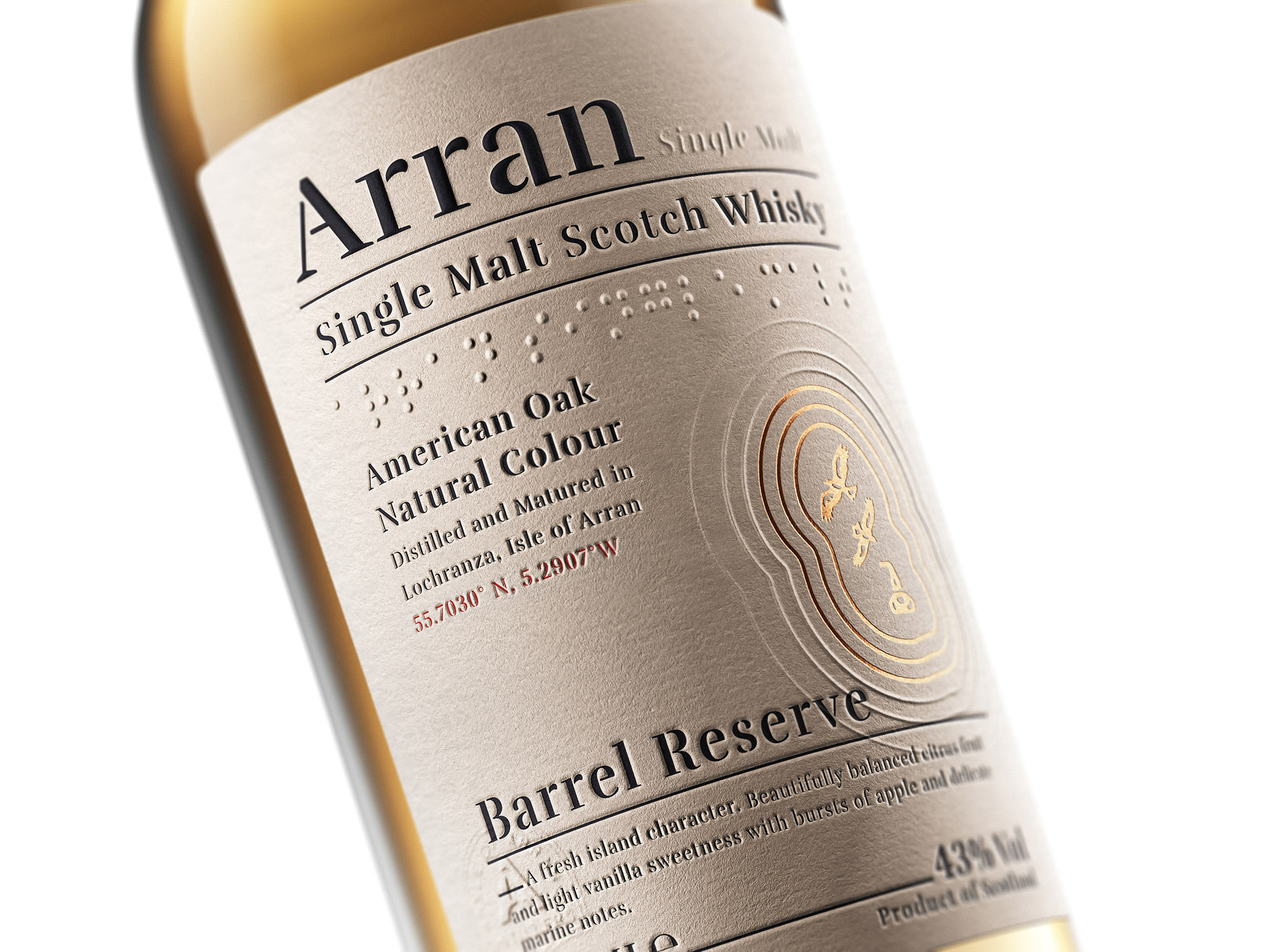 The new look pack will be available to purchase from our web shop from 16th September onwards. The rest of the Arran Single Malt range, including the wine finishes and limited edition single casks, will move into the new pack over the months ahead.
So far, 2019 has been a busy and exciting year for all of us at Isle of Arran Distillers. Our Lochranza team has already welcomed thousands of visitors and our new team at Lagg Distillery has also had the pleasure of showing new visitors all the best that the south of the island has to offer.
Visit the web site of Lagg Distillery and discover a brand new heavily peated whisky legend in the making. Make sure you include Lagg on your next visit to the Isle of Arran to see us!
With a fresh, new look for our Arran Single Malts, and a new Company logo which represents both Lochranza and Lagg distilleries (below), things are looking great as we approach 2020 and yet another milestone year for us!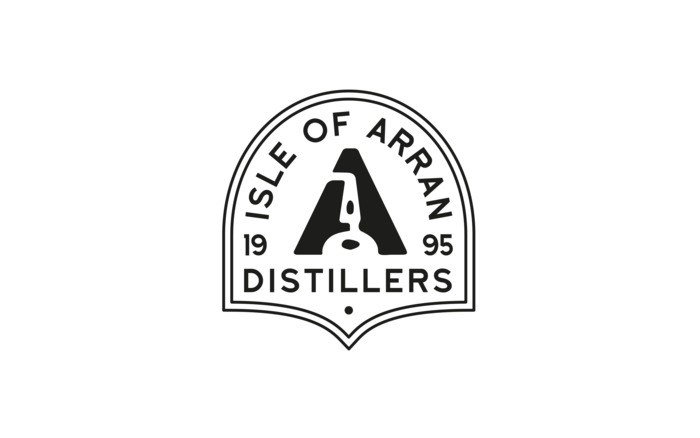 If you'd like to join us on our exciting journey as an independent distiller in the whisky industry, you can also join up to become an Arran White Stag, and receive our regular newsletter into your inbox. Being a White Stag also enables you to join our private Arran White Stag Facebook group where the conversation between like-minded Arran friends is free flowing. Lots of input from members of the Arran team and exclusive news to be had there too! All you need to do is sign up to become a White Stag, then search for us on Facebook and we will approve your request to join. See you there!