9 Nov 2020
The launch of our 25 Year Old Single Malt
In this, our 25th year of production, we are delighted to present our official 25 year old which now joins our core range for the first time, and will be released in very limited quantities each year.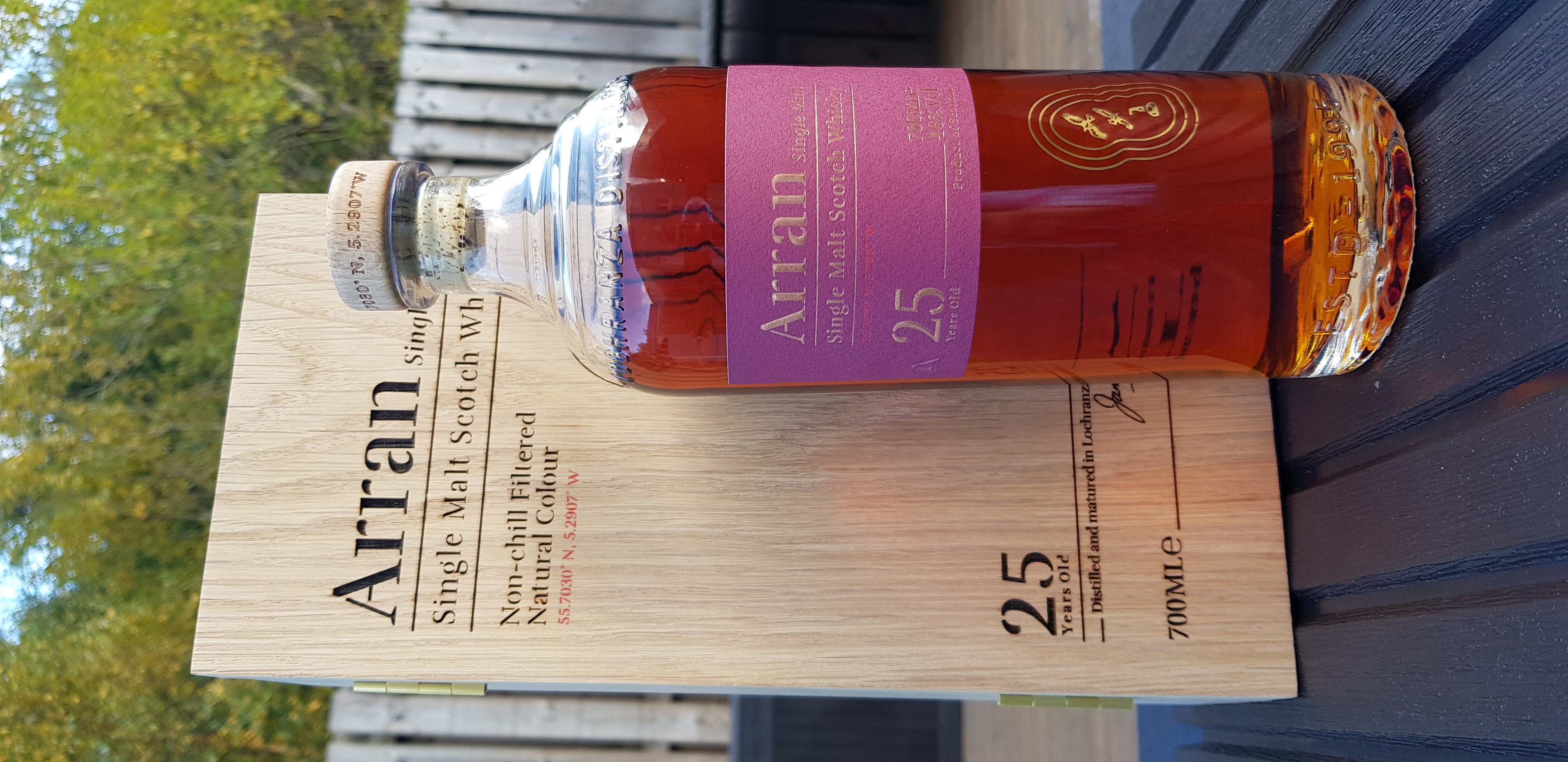 This 25 year old is truly the jewel in our crown. The whisky has been matured in ex-Sherry and Bourbon Casks and is bottled at 46% Vol without chill filtration or the addition of any colouring. Here's a breakdown of the life span of the 1995 casks we selected for this very first batch:
Original 1995 Stock
35% ex-Sherry
65% ex-Bourbon
Re-casking
All stock re-casked into 1st Fill and Refill Sherry Hogsheads for 12 months prior to bottling
As one of the first of the new wave of distilleries to reach maturity, this is a proud moment for us to be able to share this landmark Single Malt with you all at the end of what has been a tremendously challenging year for everyone and a very exciting journey that started a quarter of a century ago. We hope that you will join us in sharing a dram of this special Single Malt over these winter months to toast the continued success of our island story.
Here's to 25 years of making great Arran Single Malt!
Arran 25yo Tasting Notes
Nose – Rich oak with a gentle nutmeg note. Sweeter aromas of baked ripe figs, sultanas and black cherries.
Palate – Fruit cake with toasted almonds and cinnamon. The juicy zestiness of oranges and mandarins mellows perfectly with manuka honey, muscovado sugar, baked apricots and an interesting white pepper note that provides even more complexity.
Finish – Creamy and spicy with dark chocolate, walnuts and dark fruits compote.
The RRP of this bottling is £295. It sold out from our web shop on Monday 16th November. It will also be available to purchase from our Lochranza shop and will be stocked by your local good whisky retailer. Only a total of 3000 bottles were produced and shipped worldwide so inevitably this bottling will be in short supply.
Although we are able to take telephone orders for most items from our gift shop, we will only take telephone orders from island residents for the 25 Year Old from 11am on Monday 16th November and this will be for collection only. We are unable to accept telephone orders for this bottling for wider mail order.