9 Nov 2020
Christmas Gift Ideas!
It seems quite incredible that after the year everyone has had, we are finally reaching the end of it and the Christmas season is about to go into full swing.
We have been very grateful for the support that our worldwide community of Arran friends have shown us over the past number of months. We hope that our being able to make our Distillery Exclusive bottlings available to you online has helped in a small way to make up for some of the cancelled/postponed trips that many of you have had to remove from your diaries this year.
To celebrate the festive season, we have put together some special Christmas boxes which we hope you will enjoy yourselves or enjoy gifting to friends and family.
There are four beautiful boxes to choose from. All beautifully boxed and handtied.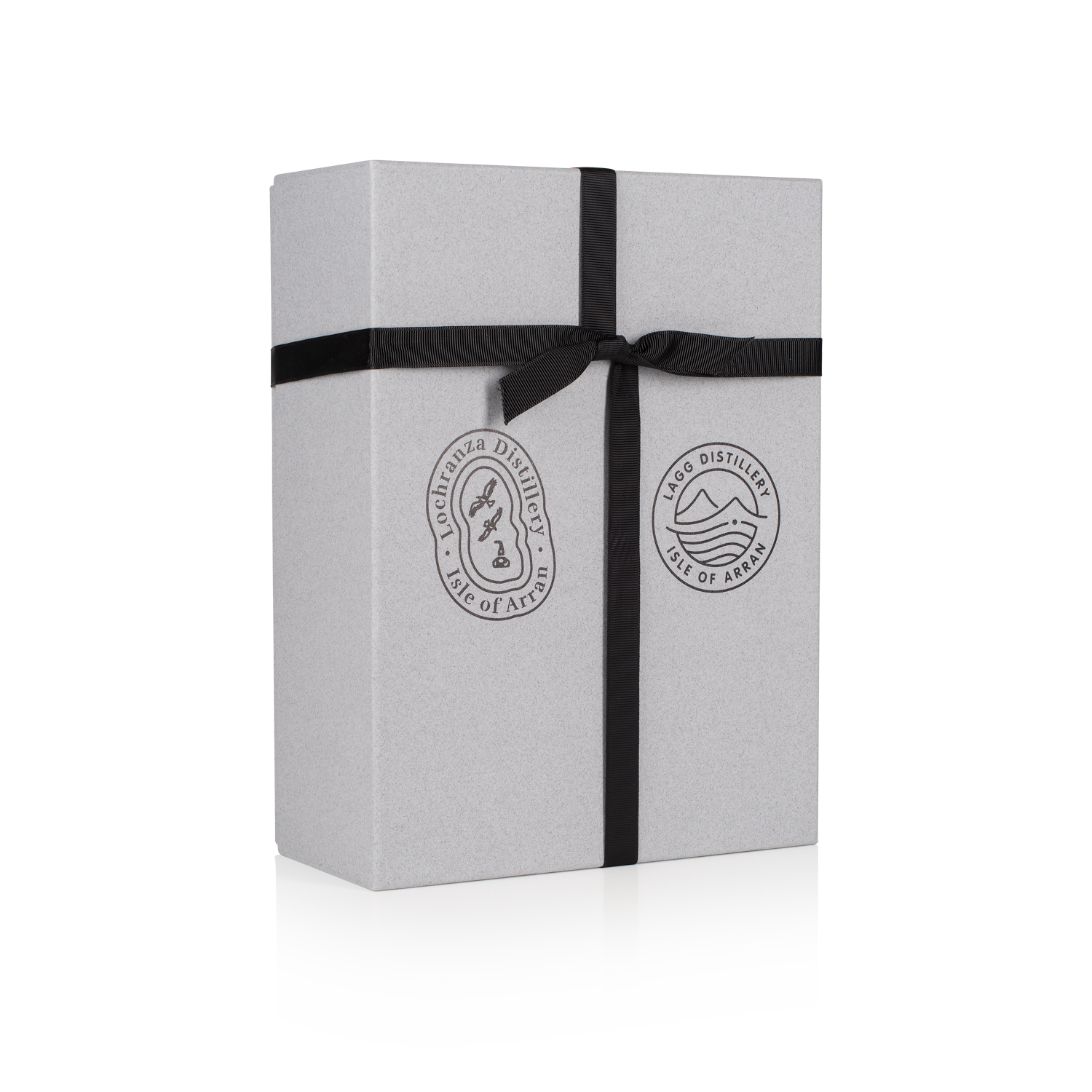 Arran Gold Christmas Box £31.99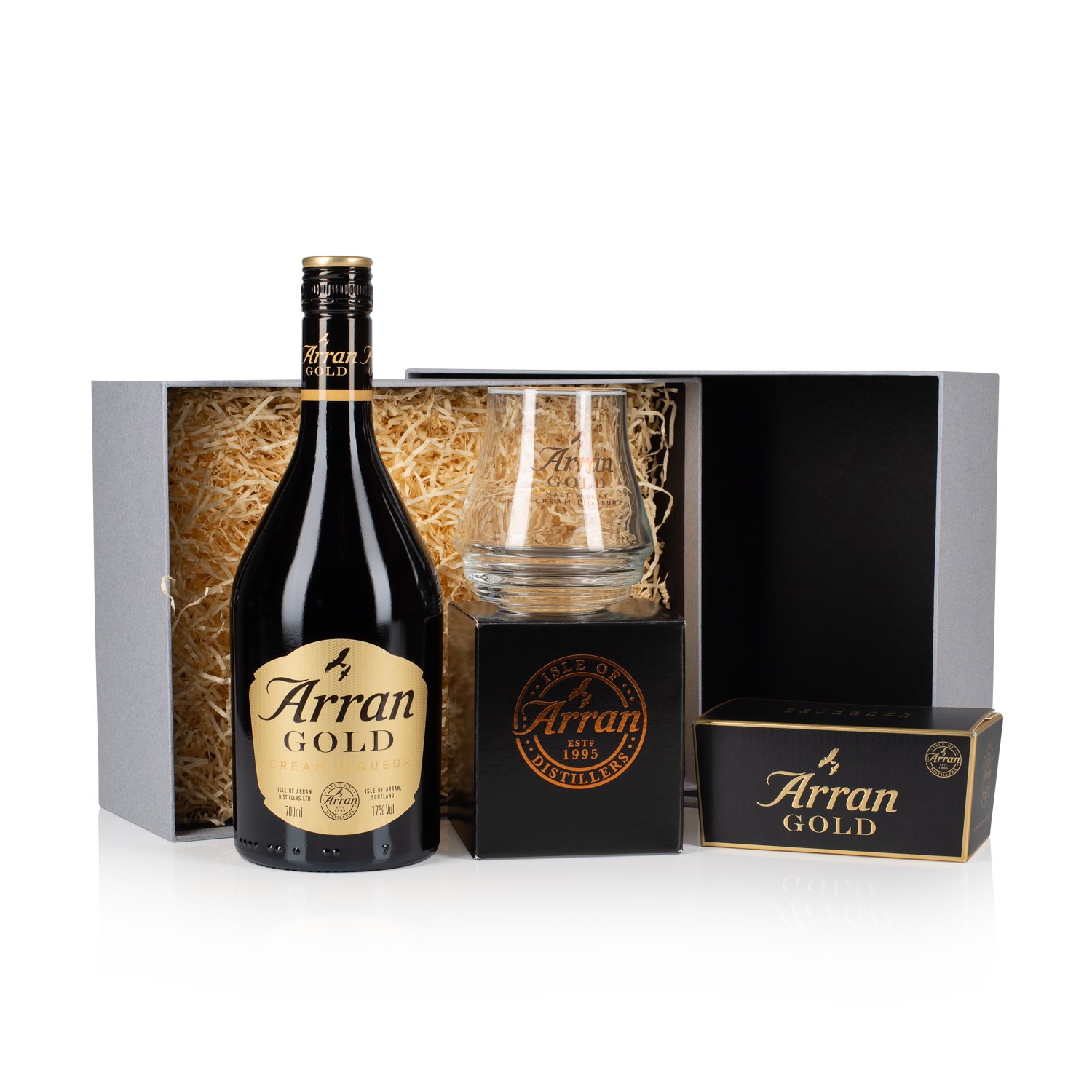 Our most popular Christmas box is back this year! This sweet treat is perfect for the person who knows that Arran Gold Cream Liqueur is simply the best cream liqueur out there. Perfectly complemented by handmade James of Arran Arran Gold fondant truffles, made on the island by our island chocolatier. You can enjoy your Arran Gold in this beautiful branded glass rounding off a whole sensory experience.
This box contains:
1 x 70cl Arran Gold
1 box of Arran Gold Truffles
1 Arran Gold glass
Taste of Lochranza Christmas Box £44.99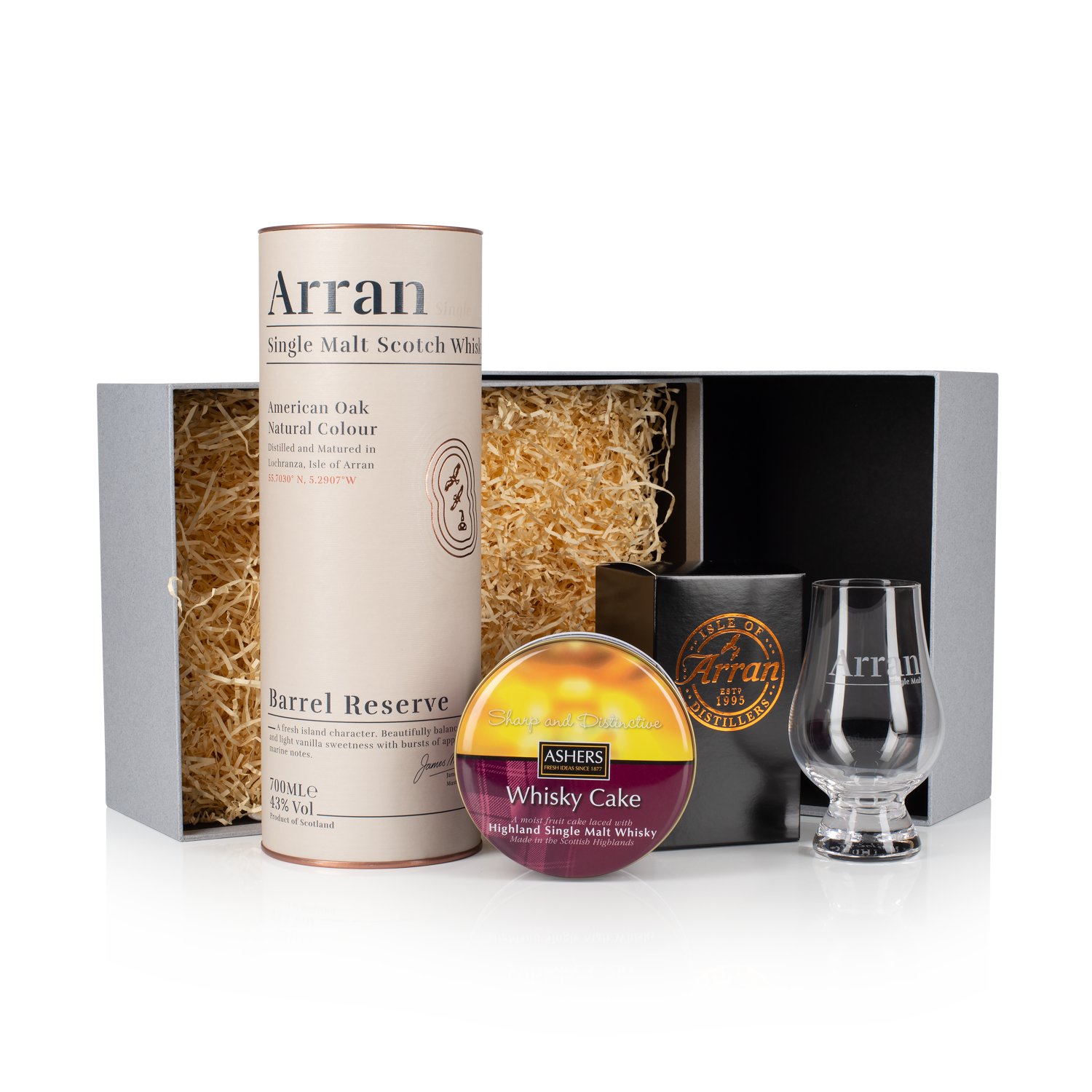 For many this year, plans to visit Arran have had to be postponed. Let us bring a little taste of the island to you this Christmas whilst you enjoy this festive treat of our classic Barrel Reserve Single Malt paired with a delicious whisky cake.
Barrel Reserve is a great Single Malt to have around in your Christmas drinks cabinet. It is perfect completely on its own, with a splash of water or a cube of ice, and it's also ideal paired with a sweet or savoury treat.
This box also contains a beautiful branded Glencairn glass to round off your enjoyment of this fresh island dram.
This box contains:
1 x 70cl Barrel Reserve
1 x Glencairn Nosing Glass
1 x whisky cake
Cask Strength Partners Christmas Box £104.99
Discover the two sides to our island profile with this Christmas tasting box and enjoy a cask strength tasting in the comfort of your own home this Christmas! Quarter Cask 'The Bothy' is matured primarily in ex-Bourbon casks before being transferred into smaller sized Quarter Casks for further maturation before bottling. The resulting whisky exemplifies the intense fruit and vanilla of the American oak influence. Sherry Cask 'The Bodega' provides the contrast in your tasting, as it is 100% Sherry matured and displays the darker, richer and spicier character of the European oak.
This perfect pairing is the ideal way to delve deeper into the character of what makes up Arran Single Malt and being bottled at cask strength both can be enjoyed alone or with a splash of water. Find your ideal level and enjoy!
This box contains
1 x Quarter Cask 'The Bothy'
1 x Sherry Cask 'The Bodega'
Luxury Lochranza Christmas Box £109.99
To make up for postponed plans this year, why not treat yourself to the luxury Christmas box this year. This box contains our 18 year-old Arran Single Malt accompanied by our incredibly beautiful Cut Crystal Glencairn Glass which is highly sought after. After 18 long years in cask, our 18 year-old displays all the depth of character you would expect from the high quality casks that have been carefully monitored over the years to produce a Single Malt worthy of carrying one of our oldest age statements. It is only enhanced by the pleasing weight and smooth lines of this beautiful glass, which makes your dramming experience truly memorable and luxurious. Moments of peace and quiet over the festive period to enjoy a good dram are precious and few, why not go for the best.
This box contains
1 x 18YO 70cl
1 x Glencairn Cut Crystal Nosing Glass
Of course, you can still purchase our individual bottles and this year we also have a brand new 10 Year Old Gift Pack andRobert Burns Malt Gift Pack which make the ideal gift for the person who loves the classic flavours of our flagship Single Malt, or for someone who is looking to try something new!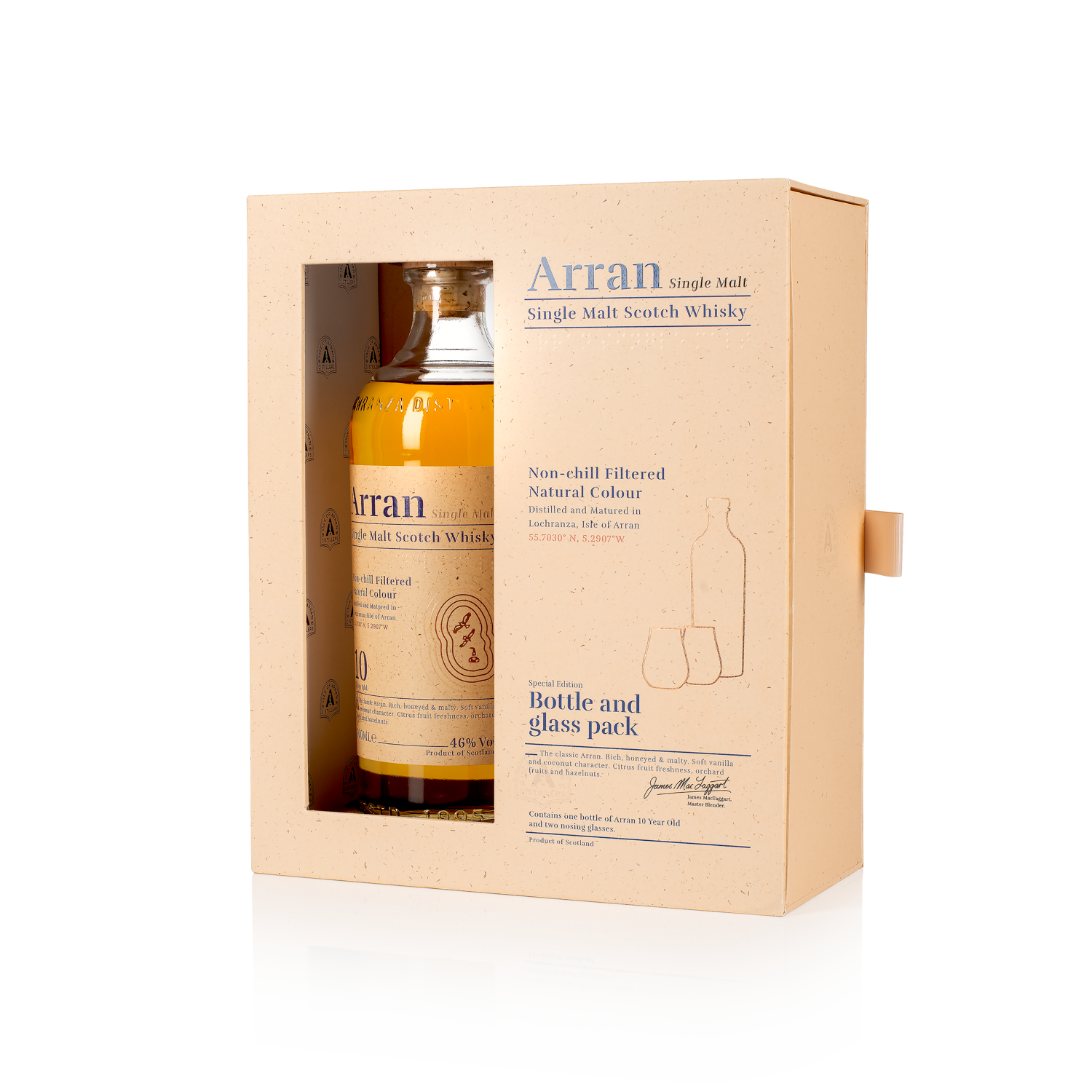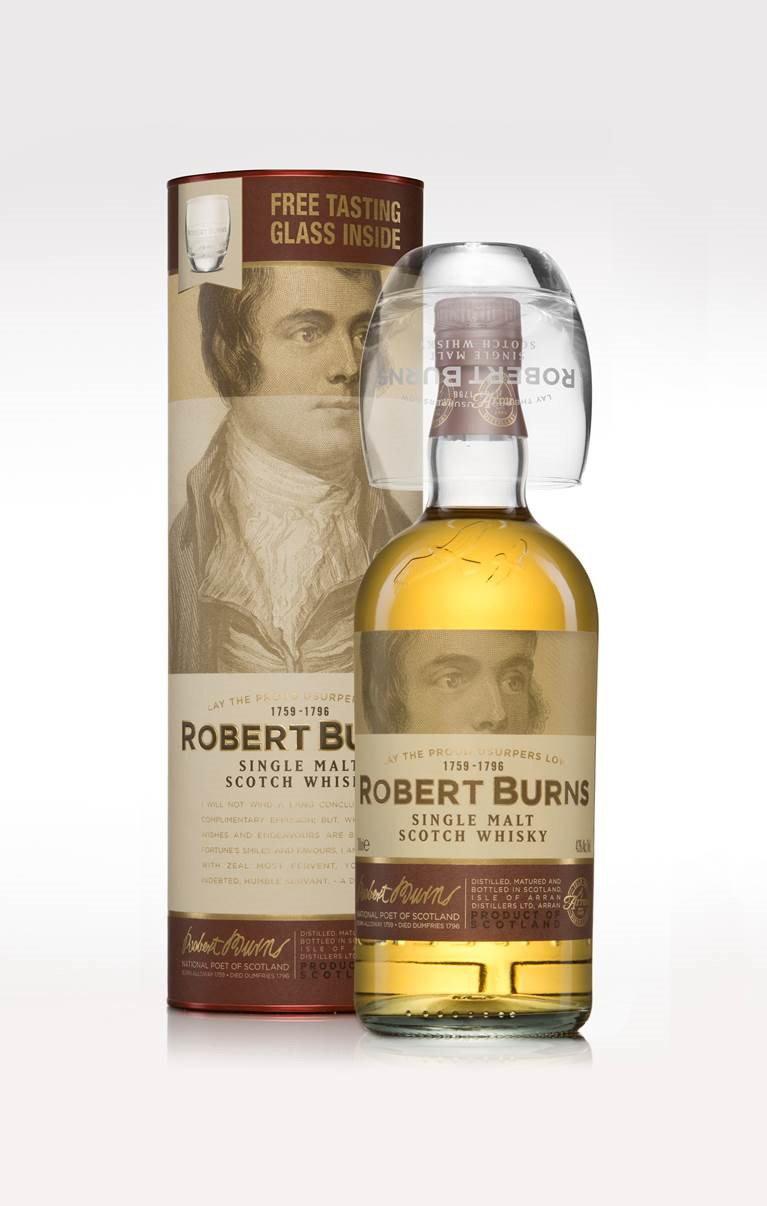 However you choose to shop for Christmas this year, we hope that you will find something to enjoy in our web shop and we look forward to packaging up your orders for you.
Don't forget that between 6th November and 6th December, there are two silver tickets waiting to find their way into two lucky winners' mail order packages. There are two silver tickets each worth a bottle of our brand new 25 Year Old Single Malt up for grabs and all you have to do is place a mail order with us between those two dates!