Machrie Moor Cask Strength Single Malt
The cask strength version of our peated Single Malt. Robust, fruity and luxurious! The 2018 release of this Single Malt does not feature a batch number as it is now a permanent part of our range.
On the west coast of the Isle of Arran lies a windswept and mystical peat
bog called Machrie Moor. Bronze Age stone circles and standing stones
are strewn across its barren, undulating terrain. One of the stone circles
is known as Fingal's Cauldron Seat, where sits a stone with a carved hole.
The legendary warrior giant Fingal is said to have tethered his favourite
dog Bran to this stone. This cask strength, peated expression of the Arran
Single Malt perfectly captures the rugged beauty and lore of the landscape.
Unleash the legend that is Machrie Moor.
• Peated Arran distilled each year since 2004
• Bottled at Cask Strength (56.2%). No batch number in 2018 as this product will now be a permanent part of our range.
• Peating level of 20PPM
Tasting Note
Nose: Citrus notes with a background of peat and a puff of smoke immediately apparent.

Palate: A robust dram with the typical orchard fruits of Arran coming to the fore over a layer of toasted brioche and red berries.
Finish: Long lasting, creamy vanilla and coconut notes from the Bourbon cask.
A memorable dram with character andcomplexity.
Appearance

Pale Gold

Aroma

A muscular nose with wood smoke, unmistakeable peat and fresh pineapple. Behind the growl there are more delicate notes of pear and lime.

Taste

Spice, Charred Oak, Citrus, Smoke, Chocolate.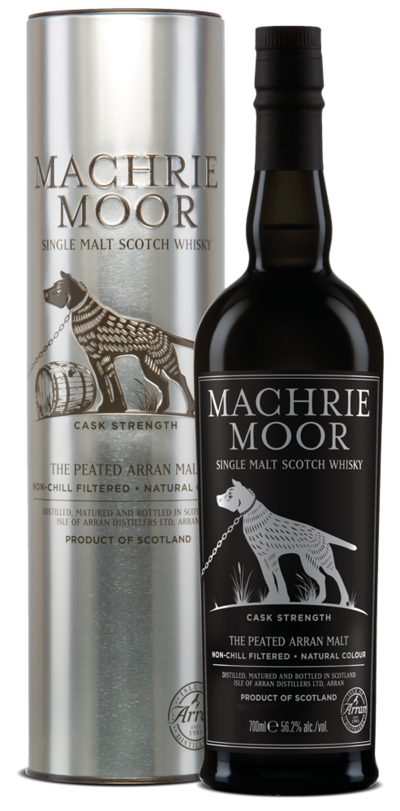 £49.99