2 Apr 2019
Coming soon! The Explorers Series Vol. 2 Lochranza Castle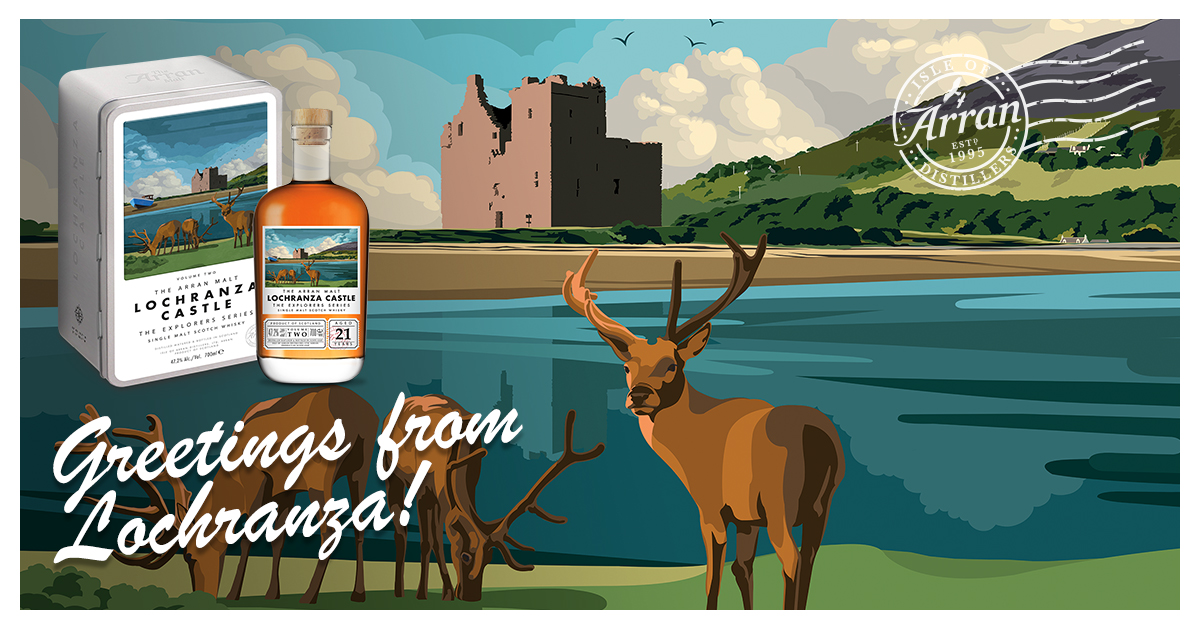 We are pleased to let you know that the second instalment of our popular Explorers Series will be arriving early this month! Lochranza Castle joins Brodick Bay as one of the best-known and most-loved areas of our beautiful island, moving north for Volume Two towards the home of Arran Single Malt in Lochranza. We are proud to present another expression of our aged Arran Single Malt - 21 years old - stunningly packaged in a beautiful presentation gift tin.
The Arran Explorers' Series is a collection of limited edition expressions of The Arran Single Malt. Each edition celebrates the outstanding scenic beauty and diversity of nature on the Isle of Arran.
On the northern coast of the Isle of Arran, the visitor will enter the picturesque
village of Lochranza, home of The Arran Single Malt. Stretching across the wide bay in the middle of the village lies a short peninsula upon which Lochranza Castle strikes a solitary figure across the landscape. A rare sight, it was originally built as a medieval hall-house in the 1200s and today stands proudly as a focal point of the village. Stags roam freely and the natural amphitheatre of the hills provides a stunning backdrop for this ancient ruin, sparking the imagination of the visitor and creating a sense of the history of this tranquil coastal village.
This view of the castle from the banks of Lochranza Bay is best taken in with a dram of The Arran Single Malt in hand. This particular example is 21 years old and has been matured in Sherry Hogsheads before being finished in Amontillado Sherry Casks sourced directly from Bodegas Tradicion in Jerez De La Frontera, Spain. The resulting elegant and flavoursome whisky perfectly compliments the majestic scenery and natural beauty of our home village of Lochranza. Take your senses on an adventure around the Isle of Arran.
47.2% Alc./Vol.
Limited edition 9,000 bottles
21 years old
Matured in Sherry Hogshead and finished Amontillado Sherry Casks
Tasting Note
NOSE: Rich, layered and complex. Caramelised almonds and chocolate covered crystallised ginger dovetail with deep aromas of dried apricots and caramelised brown sugar. Dusty smells of the dunnage warehouse abound.
PALATE: Bright and mouth coating, showing notes of honeycomb and salted caramel. Herbaceous accents offset the orchard fruit which comes to the fore to display the ever-present Arran house style. Seamless integration of age, wood characters and Arran spirit.
FINISH: Enigmatic, developing toward Assam tea and subtle cigar smoke. A resurgence of freshness completes the circle. A fabulous example of Arran in more advanced years.
The Facts!
You can purchase from our Visitor Centre shop in Lochranza and online from our online shop from Tuesday 9th April at 10am. Suggested retail price is £135 for a 70cl bottle.
Please note that there will be a restriction of 2 bottles per customer only in our Visitor Centre shop and in our online shop.
Our online shop is likely to be very busy on the morning of Tuesday 9th April in the run up to the bottle going on sale. Please be patient and bear with the web site. When the bottle is out of stock we will remove it from the web site. Transactions are likely to go much slower than usual.
Please allow 7 - 10 working days for the delivery of this bottle.
Please note that our online shop is not the only place where this bottling can be purchased, it will also be available through some of our network of distributors worldwide, and they will be supplying your local specialist whisky retailer. Please check with your usual Arran Malt retailer for information on whether or not they will be stocking this edition.
We hope you will enjoy this next stop on your journey around the Isle of Arran!