20 Jun 2017
Smugglers Series Vol.3 - The Exciseman
The final chapter of our Smugglers Series, Vol. 3 - The Exciseman - is coming soon.
This highly anticipated bottling will be released in selected countries across the world via our network of global distributors in July this year.
It will also be released for sale from our own web shop and in our Visitor Centre from 11am on Wednesday 12th July.
It is also available through selected specialist retailers worldwide. You can check out who distributes The Arran Malt in your country by clicking on the Where to Buy section of our web site.
The sale of this edition from our web shop is likely to be very busy and our web site is likely to experience high volumes of traffic. We will be monitoring our web site closely throughout the sale and should the site crash at any time we will be working hard to bring it back online ASAP.
Please note that there is a strict limit of one bottle per person going to any one address from our web shop.
Date of release in our web shop: Wednesday 12th July from 11am.
Strength: 56.8% abv.
Price: £92.99.
Limit: There is a strict limit of one bottle per person from our web shop, and one bottle per person for those purchasing in person from our Visitor Centre shop in Lochranza. If you try to purchase more than one bottle from our web shop, we will have to refund your multiple purchases. Baskets containing more than one bottle of Smugglers Series Vol.3 will be rejected. This will slow down your check out process and you will run the risk of missing out.
Please note that it is not possible for us to reserve any bottles in advance, or take pre-orders of this whisky.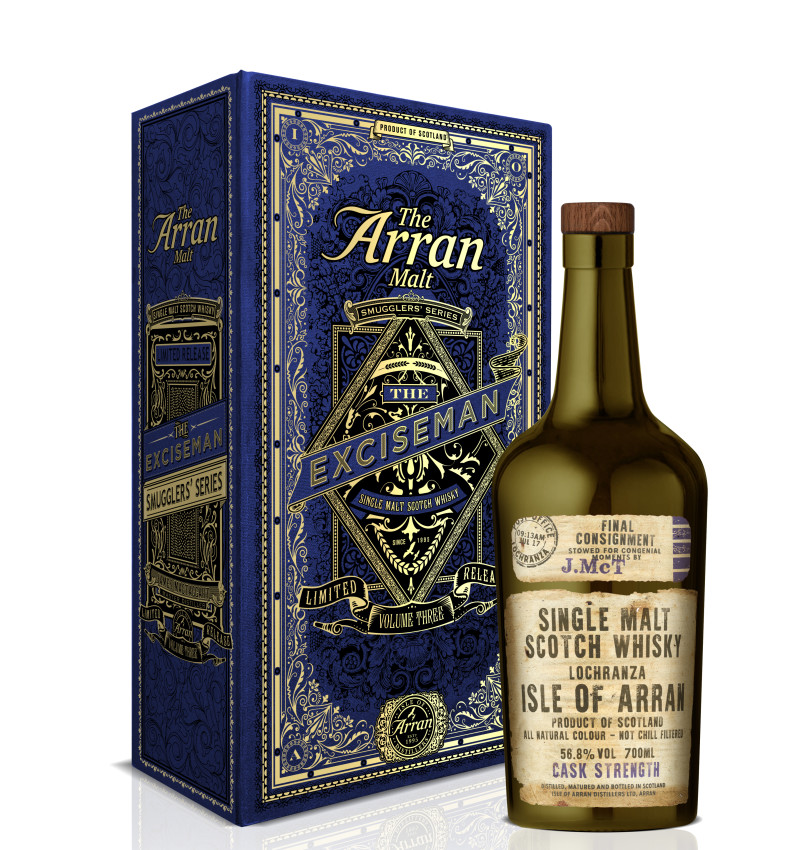 In this Smugglers' Series Vol.3 'The Exciseman' we conclude our popular series which pays tribute to the exuberant character of those striving to outwit the Government's representatives in the pursuit of the production of the famed Arran Waters. The Madeira casks used in this final volume, are similar to the ones utilised by Arran's illicit distillers, who often stored and transported locally produced whisky in old Madeira casks brought over from the continent by their smuggling counterparts. The Quarter Casks are a nod to the type of small casks which would have been the easiest to transport.
The resulting liquid is complex, full of character and a wonderful way to end a series which has so perfectly paid tribute to the independent characters of Arran over the centuries.
Tasting Note:
NOSE: The rich honeyed character is immediate on the nose, luxuriously decadent. The fresh coastal character is also evident. Apples, vanilla and a touch of spice are also subtly present with a hint of toasted oak.

PALATE: It coats the tongue and the notes of apple and vanilla are in abundance. No hint of dryness on the palate, it grows in sweet intensity and provides a rounded mouthfeel. The addition of water opens up the complexity beautifully and reveals a lighter sweetness of candied lemon.

FINISH: Long, luxurious and yet delightfully fresh. The notes of apple and citrus give a lightness of character whilst the body remains solidly complex and robust. A typical Arran with an added layer of sweetness.