Burns Night Celebrations
A contemporary Burns Night: Hosting a modern take on the traditional celebration
With Christmas a distant memory and Spring a long way away, the end of January isn't a traditionally cheerful time unless you follow Scottish tradition and throw a party to rival Hogmanay on the 25th. Burns Night is a celebration of the great Robert Burns, national hero and Scotland's most beloved poet, and a great excuse to shake off the winter blues.
Our Master Distiller James is well versed in how to throw a brilliant Burns Night celebration. Here he shares his top tips on how to welcome newcomers and make the evening an inclusive and modern affair:
Set the tone
"Are you going to strictly adhere to traditions? Will your guests appreciate traditional pipe music? Do you want a dress code? Before deciding on anything, work out what sort of evening you want.
"While there are many who believe there's only one proper way to celebrate Burns Night, the most important thing is to have a good time. If a playlist of contemporary Scottish music is more appropriate to the atmosphere there's certainly plenty to choose from!
Pick your traditions:
"Contrary to what many people may believe, Burns Night is traditionally a very structured affair. There are set times for welcome addresses, toasts, food and entertainment. If you're not Scottish, or familiar with these traditions, it can be an intimidating itinerary.
"Instead, select activities that will suit your party and the preferences of your guests. Poetry is naturally considered very important though, so if there are any brave guests, encourage them to get up and recite some of Burns' work. 'My Love is a Red, Red Rose' and 'Ae Fond Kiss' are firm favourites. Or, as host, take command of the Selkirk Grace as you serve dinner in a nod to the man who has inspired hundreds of years' worth of parties.
The Selkirk Grace
Some Folk hae meat that canna eat,
And some can eat that want it;
But we hae meat, and we can eat,
So let the Lord be Thanket!
"Of course, no Burns Night is complete without a rousing rendition of Auld Lang's Syne, which everyone should be familiar with."
Lay the table:
"Food should be absolutely central to the party. The star of the show is normally a haggis which, in a traditional sit-down dinner, is piped in by bagpipes, toasted with a dram of whisky and pierced with a dagger before being eaten."
"For a more modern take on proceedings, create a Scottish tapas menu. Serve a guests a trio of small servings that include all the Burns night favourites such as neeps and tatties (swede and potato), haggis with a drizzle of whisky sauce and cock-a-leekie soup.
"Or, make the meal a simple celebration of Scottish produce with a sit down meal of salmon fishcakes, venison and local cheeses served with oat cakes followed by shortbread and coffee."
Know your whisky
"Burns Night wouldn't be complete without whisky and no table is set without a good selection of drams. Whisky has become very fashionable once again so you may find many of your guests will be more than happy to try something new.
"Add a modern twist by serving a flight of different varieties ranging from our Robert Burns Malt which is perfect to accompany a meal and one of our lighter Single Malts, to our Machrie Moor which packs a peatier punch. You may wish to present a variety of ages across one single distillery. Our core range offers slightly different taste profiles from the lighter, more citrus 10yo to the richer, fruity 14yo with a touch of spice. You may choose to round the evening off with our luxurious 18yo, perfect to toast a most enjoyable evening."
"Whisky cocktails are increasingly popular and offer an alternative to a neat serving for those less familiar with a dram. Pick a softer whisky for mixing to give you the option of a varied menu. We developed a number of recipes with Robert Burns Single Malt, the only whisky endorsed by the Robert Burns World Federation, for this very reason."
Make Merry
"At the core of any Burns Night is the entertainment. The most popular is probably the famous Toast to the Lassies and Reply to the Toast to the Lassies. Usually incorporating quotes from Burns, these are comical monologues, light hearted and positive (with the odd sharp observation).
"Introduce a modern version of this to your night with men vs women games and competitions. The whole point of Burns Night to have an amazing time so fun should be at the heart of all your preparations."
We produce the world's only official Robert Burns Malt, it is available from specialist whisky retailers and here on our online shop for £31.99 RRP. The distillery is a Patron of the Robert Burns World Foundation.
Burns Night Whisky Cocktail Recipes
A Red, Red Rose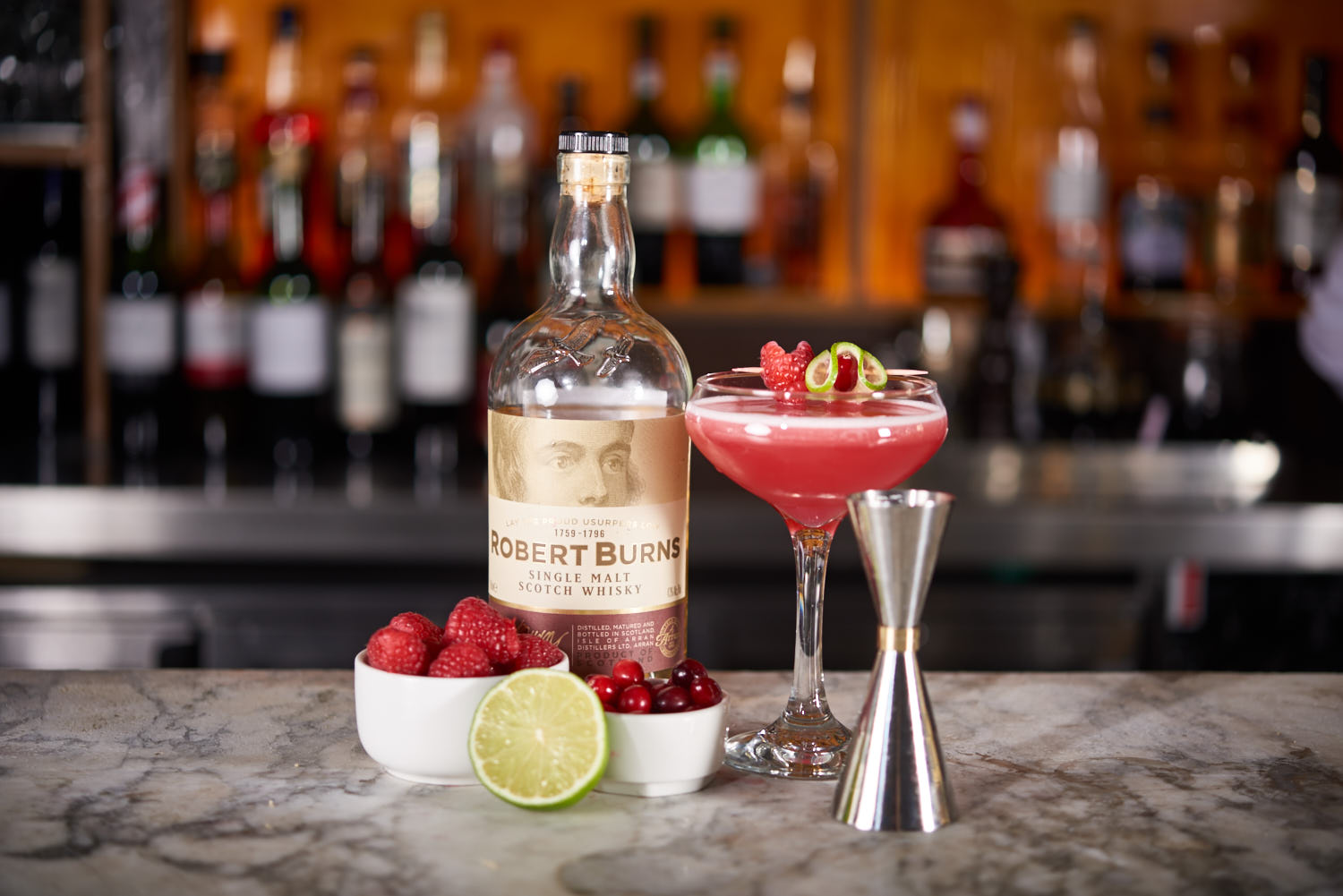 You will need:
37.5ml Burns Malt Whisky
12.5ml Chambord
125ml Cranberry Juice
20ml Lime Juice
5 Fresh Raspberries
Method:
Fancy trying something a bit different to your classic French Martini? A Scotch Martini?! Ideal at the end of the supper, as a decadent dessert cocktail! Shake all ingredients over ice and strain into an ice filled highball glass.
Garnish with a raspberry.
The Burnito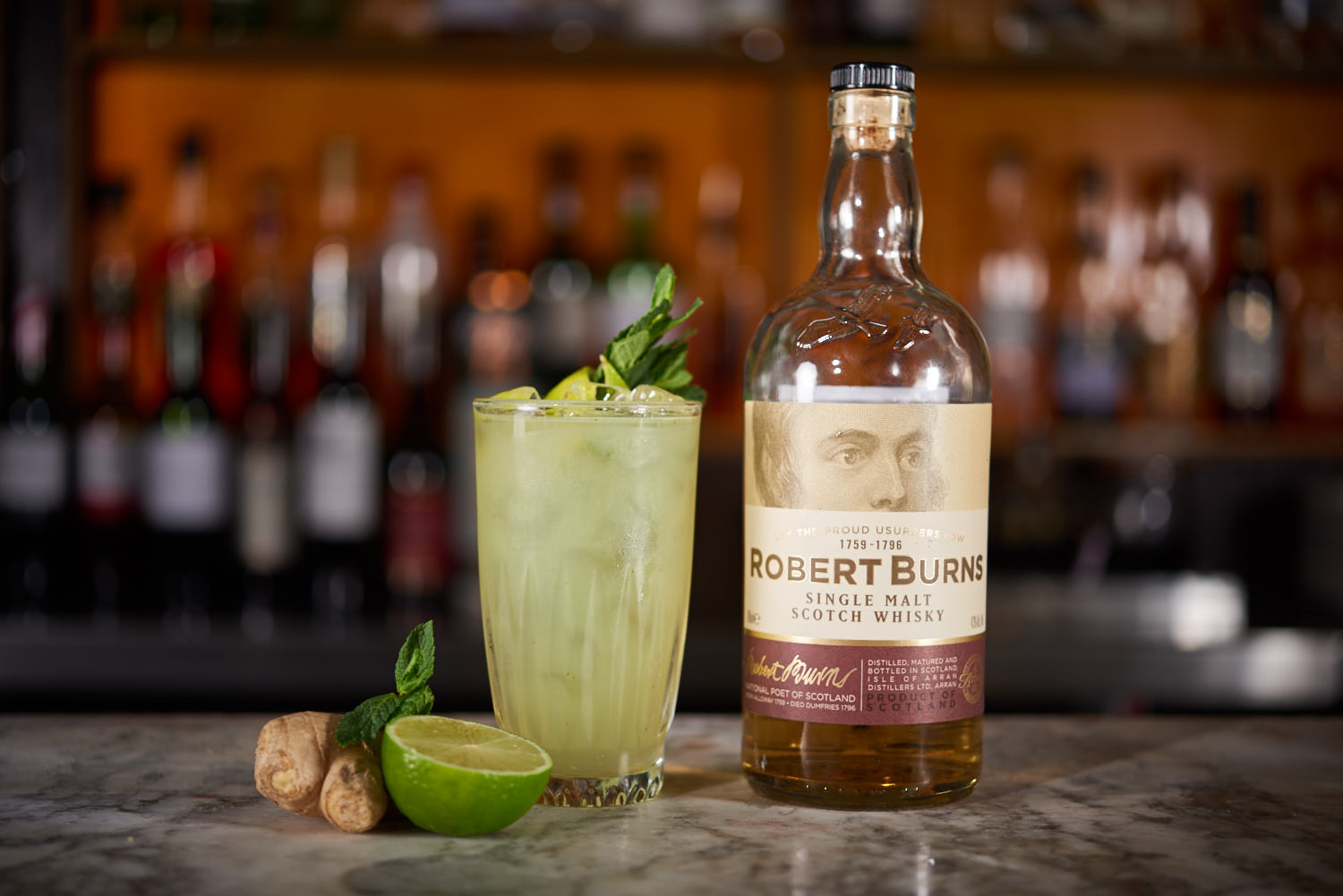 You will need:
50ml Burns Malt Whisky
25ml Fresh Lime Juice
15ml Sugar Syrup
6 Mint Leaves
Ginger Beer
Method:
There's simply nothing more refreshing than this - perfect as an opener for the Burns night and the sweet/spicy flavours really whet your appetite! Shake everything (except ginger beer) over ice and strain into ice filled highball glass.
Top up with ginger beer and garnish with a lime wedge and a mint sprig.
The Pefect Serve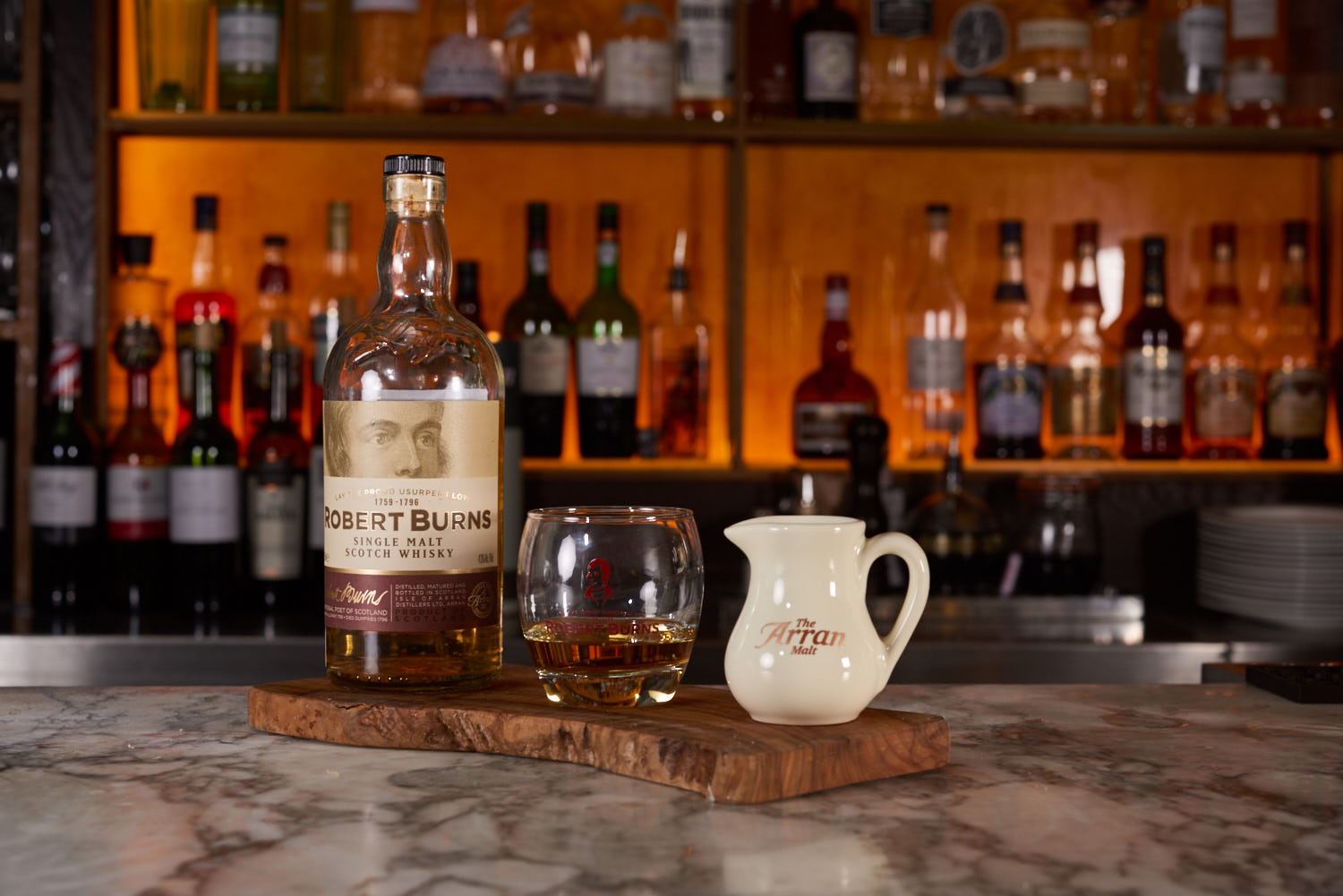 The most simple of serves for when straightforward drams are required - simply a healthy measure of Burns Malt with the smallest splash of water to open up the beautiful layers of complexity in the whisky. A lcouple of block of ice could also be added if you prefer your dram cooler with the refreshing presence of ice. As this whisky is lightly filtered, the addition of ice will not creat too much of a thermal shock to the liquid, and it will tolerate the change in temperature well.