A White Stag Wedding Blessing
Congratualtions to the new Mr & Mrs Derek and Caroline Whiteford!
The Isle of Arran Distillery holds a special place in the hearts of White Stags Derek Whiteford and Caroline Haywood. They have come to share in our love of the island and have formed warm friendships within our Arran family. The Distillery also holds significant importance for both Derek and Carloine as it is where they enjoyed their very first date together back in 2013. And the rest, as they say, is history.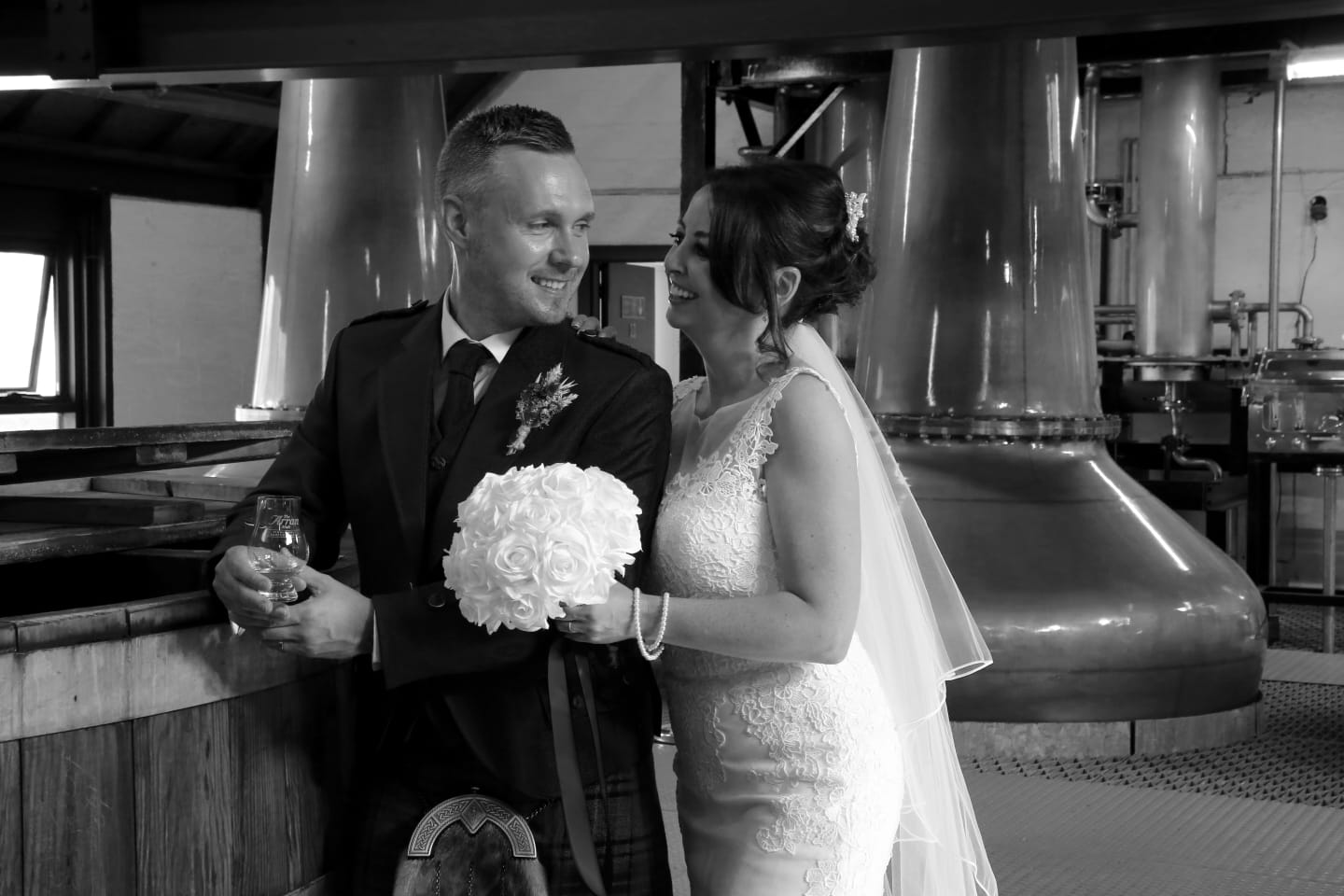 Following their wedding ceremony which took place in Mussleburgh, Derek and Caroline travelled to the Isle of Arran where their marriage was blessed in an intimate ceremony preformed in our very own still house on Saturday 11th August.
It was a lovely ceremony which was conducted in front of the stills. As the piper led Caroline and her father Charile up the steps and into the still house, the echoing bagpipes created a real atmosphere, making everyone feel very emotional. The ceremony was conducted by Bill Pillor, a close friend of the groom.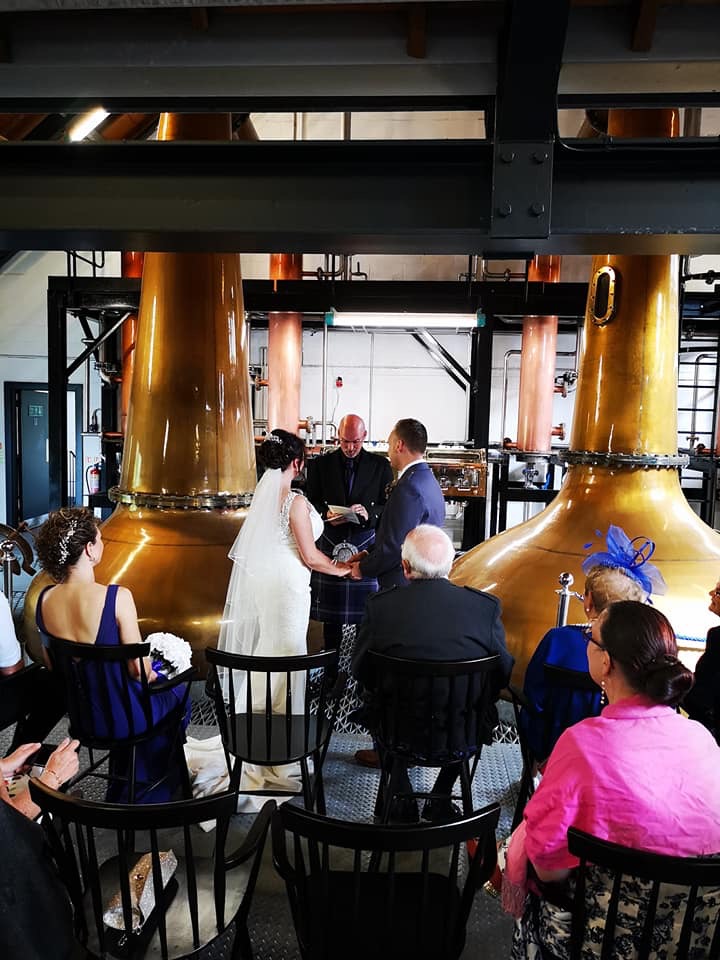 Present at the ceremony were members of both families as well as fellow White Stags Stephen and Katherine Sparshott, Michel Mykytiuk and his partner Liz. Derek's bestman for the day was fellow White Stag and big Arran Whisky fan, Daniel Howell. A special mention must also be made for Mark Newton, another White Stag and close friend of the couple, who travelled up from Manchester to Arran on the Saturday morning, after flying back to the UK from Genoa.
Caroline was every inch the glowing bride and it was clear how much it meant to both her and Derek to stand and declare their commitment to each other in a place that means so much to them.
Following the ceremony, a short reception was held in Rowan House, where guests enjoyed a glass of champagne as well as a champagne cask dram to celebrate. The weather was sunny and clear, allowing the happy couple the opportunity to have photographs taken around the distillery and grounds, attracting attention and well wishes from visitors to the Distillery and Visitor Centre.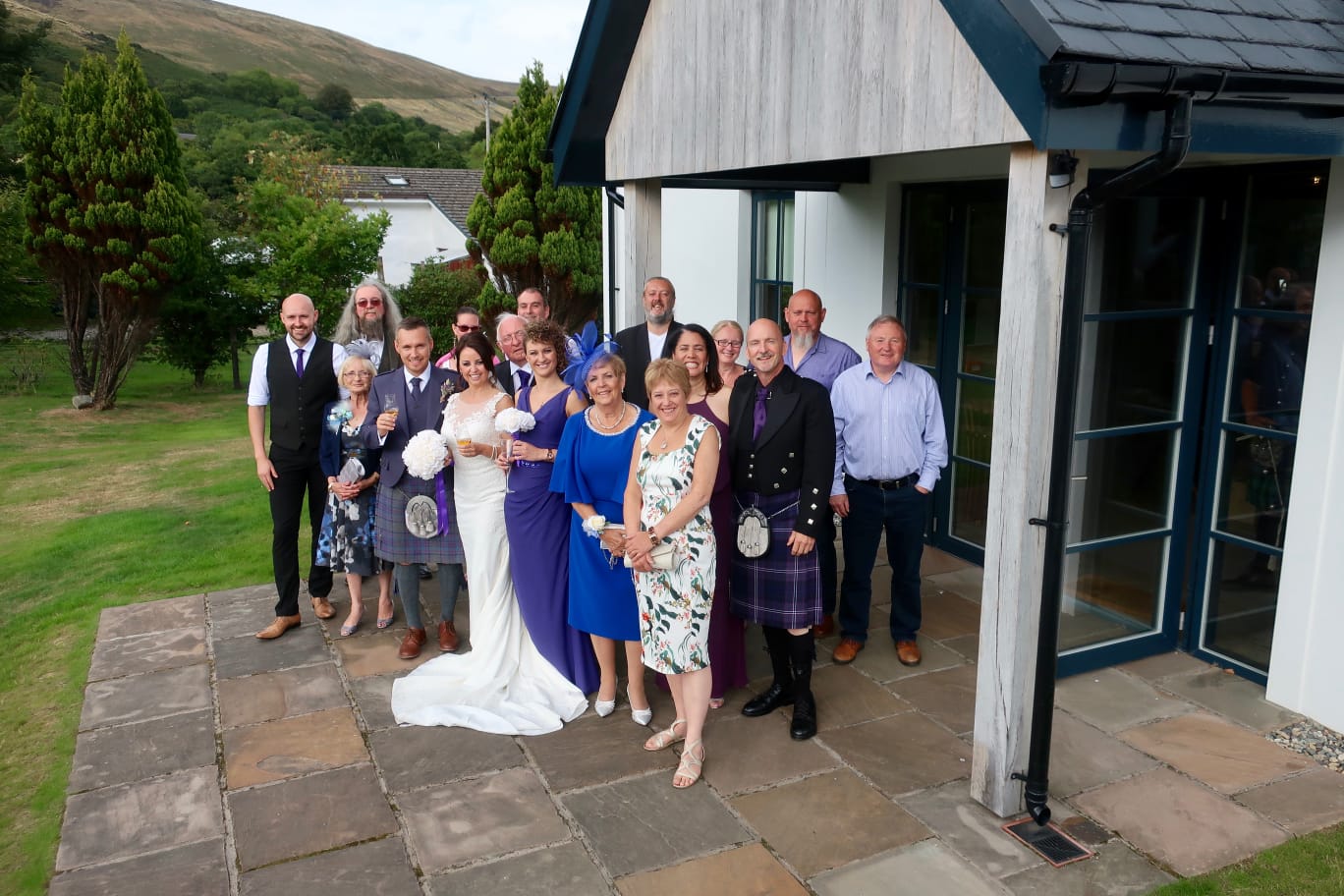 Speaking of the occasion, Derek had nothing but praise for the members of Isle of Arran Distillery and Visitor Centre staff who helped to bring together their special day:
"Caroline and I had a fantastic time last Saturday for our White Stag wedding blessing. James couldn't do enough for us and it was something we will never forget. The visitor centre staff's support was truly amazing. Stillsman Stuart Gast (who also attended as a guest) did a great job of supporting us getting the still house ready for the ceremony. Tracey Gast was an absolute fantastic support to Caroline and is a credit to the distillery visitor centre. Our love for the Arran brand always gets stronger and stronger. The hard working people behind the scenes and the great relationship we have with all of the Arran staff, Euan and James, is exactly why we support and adore everything Arran Distillers stand for as a company".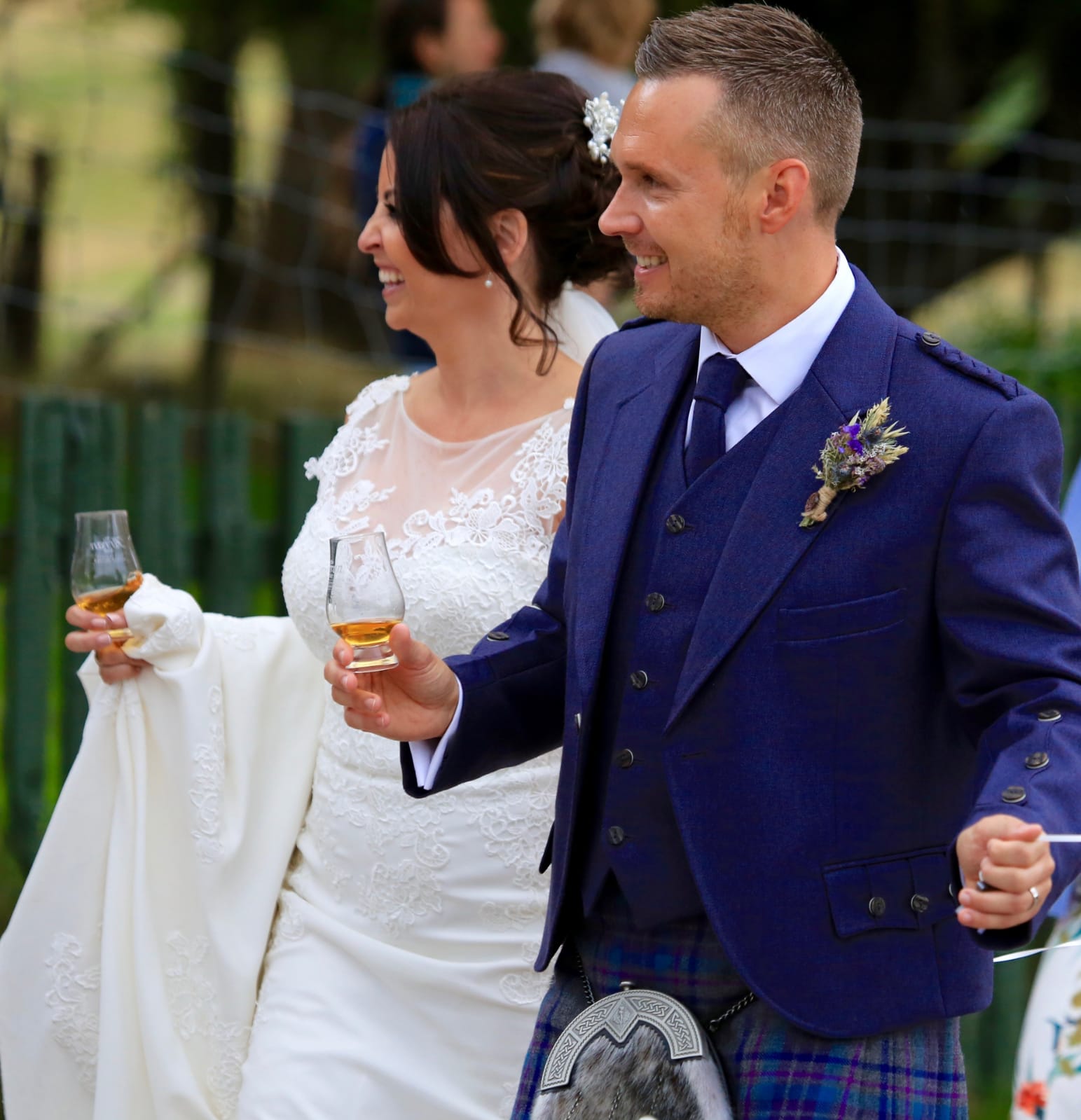 We are delighted that we were able to bring Derek and Caroline's dream of having a ceremony at the Isle of Arran Distillery to life. It was a very special occasion for us and is a day that we will always hold dear. We wish them every happiness for a long and healthy life together.
Slainte!