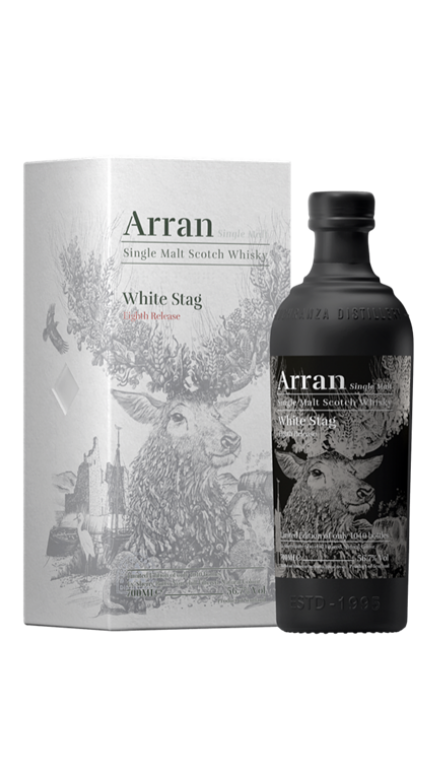 Welcome to the White Stag Eighth Release which has been crafted by our Lochranza Distillery Manager, Stewart Bowman. Stewart has chosen a small batch bottling of two ex-Sherry Butts aged three years apart. One from 2012 and one from 2009. Matured in excellent quality European Oak, one displays the classic Sherry profile of abundant sweet spice and delicate oak, whilst the other is slightly more restrained – a drop of water revealing layers of orange and salted caramel.
The marriage of these two casks has created a warm, complex dram which perfectly represents the character of Arran Single Malt at this stage of maturation in Sherry wood.
We are proud to share this release with our worldwide White Stag community. We would like to thank Stewart for selecting these casks for the Eighth Release and look forward to many more years of White Stag community friendship, with our cherished Arran Single Malt under his watchful eye.
The true spirit of Lochranza lives long through its whisky. Allow yourself to sip and remember times spent on our beautiful island.
Note: although the Mailorder team will try their very hardest, we cannot guarantee delivery in time for Christmas.
Nose

Classic Sherry with notes of charred oak and malt. Toasted marshmallows develop alongside a delicate touch of smoke and warm woodiness.

Palate

Cherry is evident, and floral sweetness like orange blossom. Caramel coats the tongue and is reminiscent of soft vanilla fudge with a layer of milk chocolate. Delicious and luxurious.

Finish

Floral, Cherries, Creamy, Long lasting .
Fancy another dram?
Machrie Moor Fingal's Cut Quarter Cask

Lemon zest, salted caramel, sweet smoke

£38.75

Arran 17 Year Old Single Malt

Butterscotch and toasted oak

£97.92

Machrie Moor Fingal's Cut Sherry Cask Finish

Sweet and fruity, rich dark chocolate, earthy smoke, soft spices

£51.66