4 Oct 2017
Tweet Tasting Round Up
Last night (Wednesday 4th October) we hosted a tasting on Twitter with some online whisky writers and members of our White Stag community. Indeed, some folks belong to both categories!
The occasion was the launch of James's 10th Anniversary Limited Edition 10 year-old Single Malt (below) and we wanted to share the first samples of this with some of our online community in advance if its general release.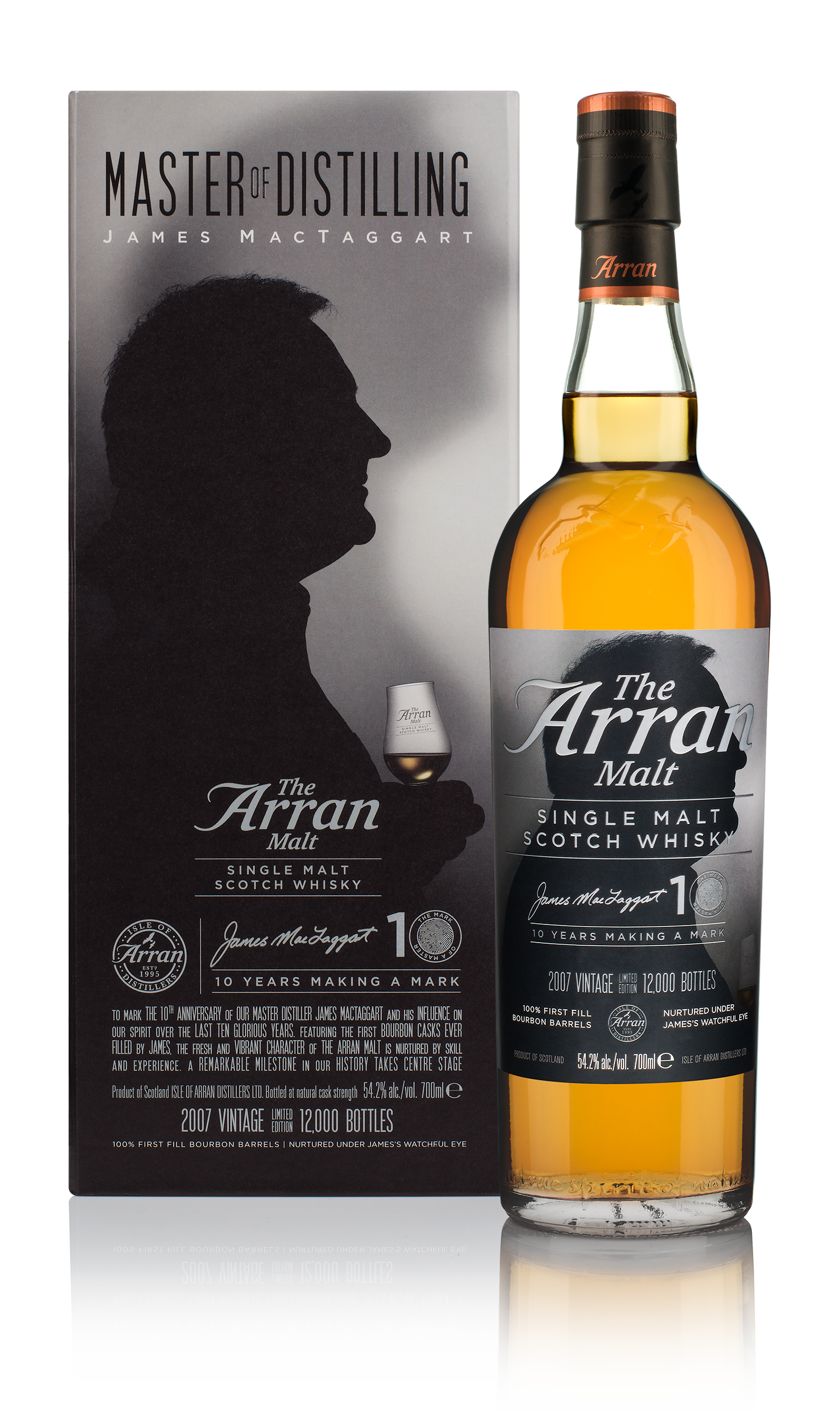 First off, here are some details:
Age - 10 years old
Cask Types - Vatting of 48 Bourbon Barrels. Mix of barrels from Jim Beam, Jack Daniels, Heaven Hill, Buffalo Trace.
Availability - 12,000 bottles worldwide, available in most of our markets, a small allocation from our own web shop and Visitor Centre shop (numbers limited to 2 bottles per person online and in our Lochranza shop.)
RRP - £64.99
We were delighted with the warm reception to this dram last night and the comments shared were both encouraging and thoroughly enjoyable to read. The pace of the tasting was slow but the comments came thick and fast. With the help of one of our bloggers Peter Moser (Friends of Single Malt) we have listed some of the great comments that came out during the tasting of this whisky last night.
Nose
Can I state the obvious? The fresh bourbon barrels. Lots of vanilla, butter. Just love it
mmm salted caramel custard on the nose!!!! Smells AWESOME
sliced Lemons and pineapple on the nose. A candy shop like smell. Beautiful. Symbolic of a great Arran Whisky
nose.. soft fresh fruits wrapped in a coat of white chocolate, rich honey, cinnamon, digestive
biscuits and butterscotch.. my senses are on overdrive !!
Very sweet, toffee, caramel and also hints of almonds and citrus
light and vibrant with a welcoming glow
a lot to discover indeed …. my nose is spoiled!
Some awesome notes coming off the nose immediately – absolute sweetness, showcasing our new spirit character
Lot's of vanilla. Getting sweeter and sweeter…
Heck yes! I'm totally getting that coconut water element in the nose too, hadn't picked that out before but it's gorgeous
Lots of good coconut coming through the longer it sits
Lemon citrus burst, Pineapple juice, guava, vanilla accompanied by a coastal breeze and a dash of spice
Vanilla, Toffee, butter, faint coconut, candied pineapple, orange oil, barley sugar… the list goes on
Mouth is watering just from the nose, intensely fruity pineapple, apple peel, tarte tatin and a soft spice at the end
Still nosing this phenomenal dram! Just been hit with a glorious condensed milk note. An Aladdin's cave of nosing notes
I close my eyes and can smell the sea air. I taste the Arran freshness and live the dream. Perfection, well done James
Taste
James is a true magician. This is building into one hell of a stunning dram
Some great observations coming out here, complex without being overly heavy, flexible and accessible on nose & palate
Getting barley right up front supported by lemon zest, rich biscuit, honey, melon and mangoes. yum!
Just taken my first sip and the grin on my face widened considerably
wow! Get most of the nose on the palate. Sweet vanilla, very complex, pineapple, lemon, honey
That sour note is really appetising. Getting a bit of a creamy hobnob biscuit taste then develops to a sour citrus note
The juciness is magnificent, really creamy, zesty, that familiar white pepper warmth.
absolutely. The magic of this dram is going to be something Arran fans talk about for years
Its a spice bomb.. wonderful spice balanced out with sweetness, fruit and soft oak.. complex and plenty of depth..
Upside down cake for sure.. The palate is creamy, complex, pineapple. It gives me a lot of pleasure! Wow, a bomb!
I wouldn't call it a bomb. Too delicate and balanced for that. But sure there's a a nice spiciness
agree on the white pepper, gives almost a slight sourness which is washed by the fruit
I think these casks beautifully showcase the Arran spirit without being dominated by wood
the oak is stunning. Not over powerful but taking you by the hand for a gentle walk along the shore
creamy texture, white pepper, lemon curd w/meringue, Victoria sponge, candied peel & pineapple cubes
Finish
The sweetness slowly fades, but the little peppery spice stays for a nice long time
The finish, reminds me of a good song, you want to hear it over and over again. Smell and taste it over and over again
the finish is nice and long and just slowly evolves from the spices to soft oak and fruits and leaves you wanting more !!
Actually really agree…the white pepper persists in the finish, and water actually works well with that complexity
We really hope that our Arran Whisky friends worldwide will enjoy this whisky and that bottles all over the world will be opened and enjoyed rather than left to gather dust on a shelf or auctioned.
We would also like to thank Matt from The Dramble for his write up of this whisky.