Arran 21 year old Single Malt
We are proud to introduce the Arran 21 year-old as a permanent part of our core range. This is one of the oldest expressions of our Arran Single Malt to date.
Our long awaited 21 year-old has now joined our core range of Single Malt whiskies. This is truly the jewel in Arran Single Malt's crown and is 100% matured in a mix of some of the oldest Sherry Butts from our distillery. We are delighted to present it in a beautiful new gift box for autumn 2019 as part of our new range.
This whisky is truly stunning. The nose immediately reveals delicious sweet Sherry notes whilst the palate has elegance and finesse. The first sip remains true to the character of Arran - fresh fruit and sweet spice in abundance. I am proud of this Single Malt as it joins our core range as one of our oldest expressions to date. - James MacTaggart, Master Distiller.
Appearance

Rich amber

Aroma

Ginger and dark chocolate

Taste

Sweetness, Spice, Bitter orange, Citrus, Dark chocolate, Satisfying.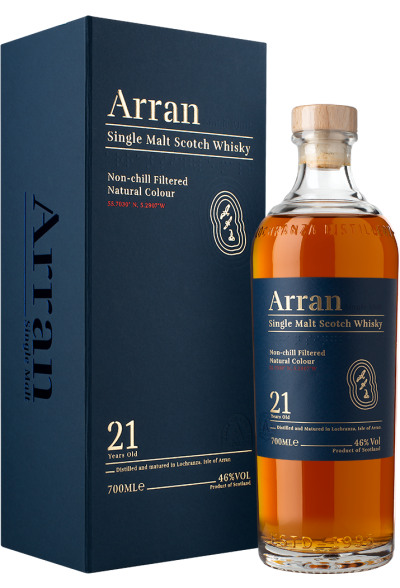 £120.00