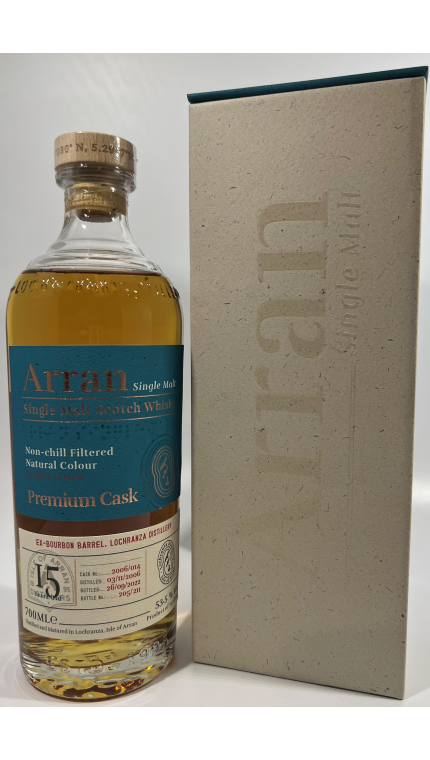 We are delighted to offer a one-off opportunity for White Stags to purchase a bottle of this Premium Single Cask, ex-Bourbon Barrel, which was distilled in 2006 from lightly peated malted barley.
A limited number of 200 bottles will be available through ballot entry for White Stags only. Entry to the ballot will be open from 21st March 10 am GMT until the 28th March at 10am BMT. Purchase is limited to one bottle per customer with no additional purchases permitted. You must be logged in as a White Stag to access this bottling.
In 2004 we started distilling small runs of 14ppm peated production at Lochranza Distillery. A limited peated production continued until 2017 and this Premium Single Cask bottling from 2006 is one of our oldest peated casks from our early peated distillations at Lochranza. It is 15 Years Old and has been bottled at cask strength, 53.5% abv.
Specially selected by Lochranza Distillery Manager Stewart Bowman, this whisky demonstrates notes of orchard fruits and sweetness mingled through with a soft smoky finish.
A unique example of an Arran Single Malt.
Nose

Orchard fruit

Palate

fruit and soft smoke

Finish

Sweetness, Smoke, Smooth, Sweet smoke.
Fancy another dram?
Machrie Moor Cask Strength Single Malt

£45.83

Lagg Distillery Exclusive Heavily-Peated Arran Single Malt Rum Cask Finish

Complex fruity notes, oak smoke, cinnamon.

£54.16

Lagg New Make Peated Spirit Drink

Crisp & clean, Fresh fruit, Sweet peat

£14.16