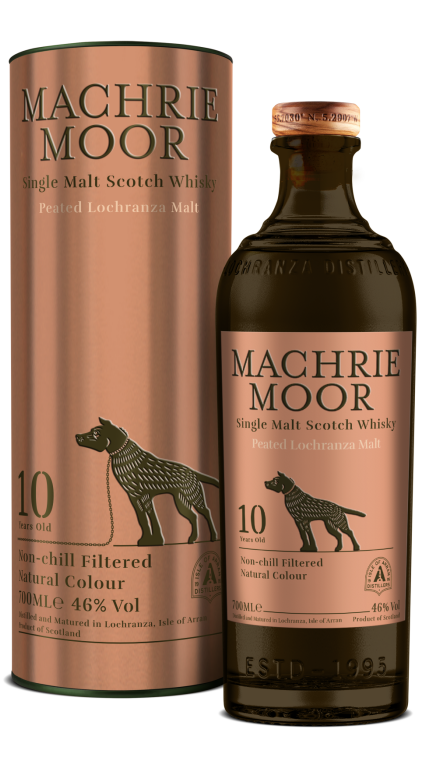 The classic fresh Arran Single Malt character with a puff of peat smoke. This new 10 year old release of Machrie Moor - our iconic Peated Arran Single Malt produced at Lochranza Distillery- now joins our Machrie Moor range, and will be bottled in very small quantities every year. Now you have three wonderful lighty peated options to try from our Lochranza Distillery.
On the west coast of the Isle of Arran lies a windswept and mystical peat bog called Machrie Moor. Bronze Age stone circles and standing stones are strewn across its barren, undulating terrain. One of the stone circles is known as Fingal's Cauldron Seat, where sits a stone with a carved hole. The legendary warrior giant Fingal is said to have tethered his favourite dog Bran to this stone. This peated expression of the Arran Single Malt perfectly captures the rugged beauty and lore of the landscape. Unleash the legend that is Machrie Moor.
Fully matured in 1st fill Bourbon Casks for 10 years and bottled at 46%, without chill filtration or added colouring, this new peated Arran Single Malt displays all the freshness of our island house style, with an added puff of smoke and earthiness, offering a warm gold coloured whisky with a peating level of 20ppm.
With a long lasting, memorable and intense finish, soak up the atmosphere of one of Arran's most majestic and beautiful landscapes.
Nose

Rich sweet spiced notes backed with peat smoke.

Palate

A sweetness lies beneath the spice and the layer of sweet smoke adds intensity.
Fancy another dram?
Machrie Moor Fingal's Cut Sherry Cask Finish

Sweet and fruity, rich dark chocolate, earthy smoke, soft spices

£51.66

Arran Single Malt Private Cask, Ex-Sherry Butt

£75.00

Machrie Moor Single Malt

Lemon, pineapple, fresh

£41.66