6 Feb 2020
Arran Whisky Festival - Malt and Music 2020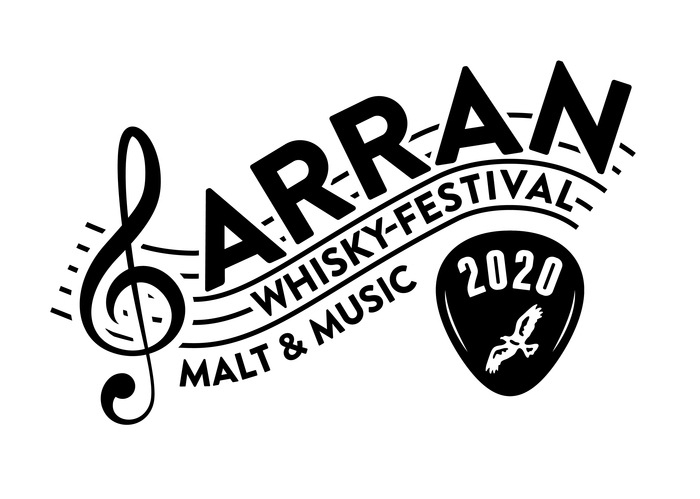 Tickets for the Arran Malt & Music Festival 2020 will be on sale on Wednesday 26th February from 11am GMT, available on Eventbrite
This year, our Arran Malt & Music Festival will take place from Friday 26th June - Sunday 28th June, with the main Festival Day on Saturday 27th June. We are looking forward to welcoming old and new friends to join us in also celebrating Lochranza Distillery's 25th Anniversary - the actual date of which coincides with the end of the festival weekend on Monday 29th June.
Here is what we have got in store for you!
White Stag Summit – Friday 26th June 1230 – 1500. Free of charge. Limited to 20 places.
We are delighted to welcome you to the inaugural White Stag summit, to be held in Rowan House.
Join Jaclyn and Mariella for an afternoon of conversation and tasting with your fellow members of the White Stag community. Celebrate 25 years of Isle of Arran Distillers, relive some good memories and have your say as a valued part of the White Stag herd.
A buffet lunch will be provided along with a few special drams to share amongst fellow White Stags.
As places are limited we will draw names out of a hat. Please see details below (How do we get our tickets) on how you can enter the draw to gain a place on the inaugural White Stag Summit.
White Stag Dinner – Friday 26th June 1730 – 2300. £125 per ticket
The White Stag Dinner will take place again on the Friday evening in the Grand Marquee in the grounds of Lochranza Distillery. It is set to be another fantastic event with great conversation, delicious food and exclusive drams! This year we will be celebrating the 25th Anniversary of Lochranza Distillery so it will be an extra special opportunity to get together with fellow Arran White Stags and raise a dram or two to celebrate. You will be welcomed with a drinks reception and go on to enjoy a three-course meal featuring some of the best local island produce. Specially selected drams will accompany the evening and each guest will take home a commemorative bottle of an exclusive expression of our Single Malt. This year, in order to celebrate the 25th Anniversary, all White Stags are kindly requested to wear Black Tie/Cocktail dresses and spot of silver! Tickets for The White Stag Dinner will go on sale on on Wednesday 26th February at 11am GMT.
Arran Malt & Music Festival – Saturday 27th June 1100 - 1700.
Entrance is free of charge. Under 18s must be accompanied by an adult. You will have the opportunity to take short guided tours of the distillery, attend a special Masterclass and enjoy our famous whisky bar (cash bar only) where you can try some of our whiskies by the dram, as well as enjoy local beers and other refreshments. Hourly mini tastings in our Tasting Bar will be available for those who don't want to take a full masterclass.
Masterclasses
A full programme of masterclasses will be available to take part in on the day, including the hugely popular Ultimate Masterclass. The line-up of masterclass tickets (except the Ultimate) will be on sale on on Wednesday 26th February 2020 at 11am GMT.
Mariella Romano & Jaclyn McKie - 1245 – 1345. £40 per ticket. Limited spaces.
The Arran Creative Fun Quiz! Are you the one in your whisky club that knows everything about Isle of Arran Distillers? You think you can recognize an Arran Whisky Quarter Cask from a Single Cask 1997? Were you recognized in school for being the most creative? Ultimately, do you like a good time as much as the next person??
Well, it doesn't matter if you don't fit the requirements because this event is all about having fun and you have to participate in 2. Join Mariella and Jaclyn for cocktails, geeky questionnaires, a blind tasting of fine drams, an arty session where you can show off your skills and some other surprises so grab a friend and come along for a whisky and a laugh!
Oh, and there is a prize for the two winners of course!!
Lochranza Distillery Tour Guides - 1245 – 1345. £40 per ticket. Limited spaces.
Join our Lochranza Tour Guides for lots of stories and tales of their experience of working at Lochranza Distillery over the last number of years.
25th Anniversary Tasting - 1345 – 1445. £40 per ticket. Limited spaces.
Join our Managing Director, Euan Mitchell, on a journey over the last 25 years to celebrate the 25th Anniversary of Lochranza Distillery. Great banter and great drams are guaranteed!
Ultimate Masterclass – Selecting the official 2021 Festival bottling with James MacTaggart and David Livingstone. 1445-1545. £100 per ticket.
Spend a special hour with James MacTaggart (Production and Operations Director) and David Livingstone (Lochranza Distillery Manager) tasting cask samples specially chosen for this unique tasting! This masterclass is restricted to 10 spaces and names of participants will be drawn at random. Please see details below on how to enter the ticket draw.
Whisky & Food/Chocolate Pairing – 1430- 1530. Crofters Cottage. £25 per ticket.
Bringing together our own Single Malt with the local produce and artisan chocolates of master chocolatier James of Arran based in Brodick, this decadent experience is bound to delight your tastebuds!
Stillmens' Master Class - 1445 - 1545. £40 per ticket. Limited spaces.
One of our most popular classes! Led by Stillman John Dowens. The exclusive session with great banter will see John and the other stillmen draw drams from six of their personal favourite casks; some extraordinary whisky will be sampled – it's the chance to try some casks that are earmarked especially by the guys that make the whisky. With limited places this one is always a sell-out, so be quick!
Evening Ceilidh - 8pm – Midnight. £15 per ticket
Let your hair down and get your (comfy) dancing shoes on for the evening ceilidh which is held in the Grand Marquee in the Distillery grounds. 'Whisky Kiss' will be headlining the event along with the Rowan Brothers Ceilidh Band who will be keeping us entertained until it's time to turn into a pumpkin...that's if you haven't already! Tickets for the Evening Ceilidh are limited and will go on sale on Wednesday 26th February at 11am GMT.
The Long Lagg Lunch - Sunday 28th June - Lagg Distillery. £50 per ticket. Limited Spaces.
We are delighted to announce that there will be another special "survivors lunch" at Lagg Distillery. Full details to follow so please watch this space...tickets will go on sale for this extra special event on Wednesday 26th February at 11am GMT.
How do we get our tickets?
All tickets except those for the White Stag Summit and Ultimate Masterclass will be sold from Wednesday 26th February at 11am GMT.
The White Stag Summit and Ultimate Masterclass are likely to be popular, so in order to make things as fair as possible, we will draw names from a hat to allocate the tickets for these two sessions. There are 10 places available for the Ultimate Masterclass, and 20 places available on the White Stag Summit (and you must be a signed up White Stag to attend the latter).
If you would like the chance to purchase a ticket for these, here is what you need to do:
E-mail louisa@arranwhisky.com between Wednesday 12th February 7pm and Tuesday 18th February 4pm 2020 entitling your e-mail WHITE STAG SUMMIT or ULTIMATE MASTERCLASS. Please note that you can request a ticket for both classes but if your name is drawn for the Ultimate Masterclass then your name will be withdrawn from the White Stag Summit draw.
In your e-mail please provide us with your full name, address and contact telephone number, and confirm if it's the The White Stag Summit or The Ultimate Masterclass that you are interested in (or both).
Please bear in mind that names on the tickets are non-transferrable. If you e-mail on behalf of someone else and are successful in obtaining a ticket, we will not be able to transfer it over to the other person. In this instance, we will re-draw the name and re-allocate the ticket.
We will draw 10 names for the Ultimate Masterclass and 20 names for the White Stag Summit and contact everyone by Friday 21st February at 5pm. You will have until 5pm on Wednesday 26th February to call 01786 431902 to confirm your participation in the masterclass you have applied to join and pay for your ticket. If you do not get in touch with us, we will contact the next person on the reserve list.
We are looking forward to welcoming you all back to Arran for another wonderful weekend of Arran Whisky, music and friendship!