8 May 2019
Calling all Arran White Stags!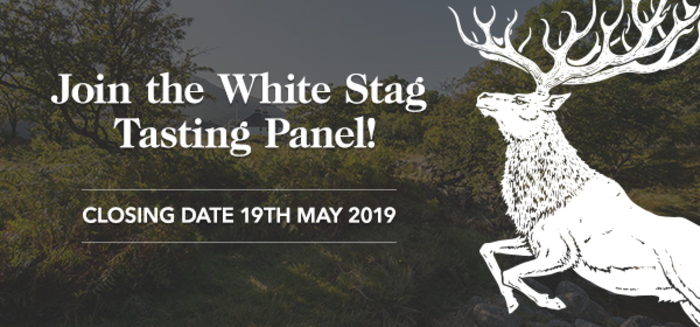 CALLING OUT TO ALL OUR WHITE STAGS - THE 2019 TASTING PANEL NEEDS YOU!
Spring is well underway with the countdown on towards the summer months…this means one thing only…the call is out to our White Stags to form this year's White Stag Tasting Panel!
Would you like to join the panel this year? First of all, we need to check that you would still like to receive our White Stag newsletters from us. If you have received our last e-mail leading you to this web page, your preferences are all well noted and we thank you for keeping us up to date! If you'd prefer not to contacted by us any more, you can unsubscribe by clicking the link at the foot of our e-mail.
Back to the fun part! We are excited to assemble another White Stag Tasting panel for 2019. This is our fifth tasting panel and in the four years that we have been working together on the White Stag bottling, we have never had a single panel member defect from their task as a taster. We are always delighted to have a full house of tasting notes every single year. This year, panel members will join Benny Denolf who has already won his place on this year's tasting panel. Benny attended the White Stag Dinner at our annual Arran Malt & Music Festival in 2018 and was the lucky winner of a place on the White Stag Tasting panel 2019 in our charity raffle.
What is the White Stag Tasting Panel?
If you're new to our community...WELCOME! In Spring every year, we ask our online community of White Stags to get in touch and volunteer to be a member of our annual tasting panel which selects the whisky to be bottled for our annual White Stag bottling. A panel of 20 members are sent a tasting pack containing three different whiskies. The whiskies will be labelled only 1, 2 and 3. You will have no additional information to ensure as unbiased a result as possible! As a panel member, your task is to blind taste all three samples (how awful) and decide which one you would like to see officially bottled for the community.
What's in it for me?
You will receive 3 samples of stunning, handcrafted cask strength Arran Single Malt to blind taste – 60ml samples so enough for you to involve a couple of your friends and make an evening of it. They will be labelled only 1, 2 and 3. You will have no information on their maturation, other than that they are Arran Single Malt. They are free of charge.
You will pick your favourite and cast your vote of 1, 2 or 3. The winning sample will be bottled as the official White Stag Fifth Release in autumn this year.
You will contribute to the 'super tasting note' compiled from all the panel member's tasting notes - this will be printed on the gift box of the final whisky, along with the names of all of the panel members as a gesture of thanks for your participation.
You will have the opportunity to reserve a bottle for purchase, and will receive it before the rest of the bottles are put on general sale.
So, how do I get involved?
E-mail us a photo to whitestag@arranwhisky.com of you enjoying your favourite White Stag bottling so far. Please entitle your e-mail 'White Stag Tasting Panel'. Stories explaining the photos are welcome! Please do this by Sunday 19th May 2019 at midnight.
Make sure you include your full name and postal address in your e-mail. Entries without this information won't be considered. Please also indicate on your e-mail if you are happy for your photo to be shared on our social media pages or not. We need your permission in order to share any of your images.
What will happen next?
We will contact all those who have been selected for the tasting panel week commencing Monday 20th May 2019. If we don't get in touch by Wednesday 22nd May 2019 you can assume that you were not selected on this occasion.
For those who have been selected, we will send out your tasting pack and expect your final choice and tasting notes by 9am BST on Monday 10th June. We will e-mail you shortly thereafter to tell you which sample has been chosen. We will announce the winning whisky in our White Stag Facebook group at 7pm BST on Monday 17th June 2018. Make sure you are joined up to this group to keep up with all the news on this bottling! Join up HERE.
We will also be on Twitter and Instagram from 7pm BST on the same evening (17th June) to share some of the great photos from our White Stag community with our followers using the hashtags #arranwhisky and #ArranWhiteStag
So, what are you waiting for? We need our White Stags to help us choose another fantastic bottling for the community!
CLICK HERE TO SEND YOUR E-MAIL
Terms & Conditions of entering for a place on the White Stag Tasting Panel
You must be over 18 years-old or of legal drinking age in your country.
You must provide your full name and postal address on your e-mail. If you don't we will be unable to accept your entry. Please note that it is not possible for us to ship sample packs to every country. Here is a list of where we can ship to. Where possible, we will do our best to include as many of our White Stags from further afield as we can.
You must be able to have tasted the whiskies and given feedback by Monday 10th June 2018.
The Tasting samples have no commercial value and are not for sale or re-sale. Each one will be numbered and marked specifically for its recipient.
You are not obliged to make a purchase at any time. If you are successful and accept a place on the tasting panel, a bottle of the White Stag Fifth Release will be reserved for you, however you are not obliged to purchase it.
We will not share any of your photos without your permission. We will store all entries securely and delete them after 6 months - please rest assured that your information is safe with us. For more info on our privacy policy please click here.
Important dates:
Sunday 19th May 2019 - all entries for the tasting panel must be received by midnight.
w/c Monday 20th May 2019 - we will contact you this week if you have been successful in obtaining a place on the tasting panel.
Monday 10th June 2019 - all tasting notes and final choice of sample (1, 2 or 3) should have been submitted.
Monday 17th June 2019 - Rendez-vous for all White Stags in our Facebook group at 7pm BST to find out which sample came out on top and what the other samples were.
Good Luck to all our White Stags! We are really looking forward to hearing from you and seeing your photos!