Burns Unbroke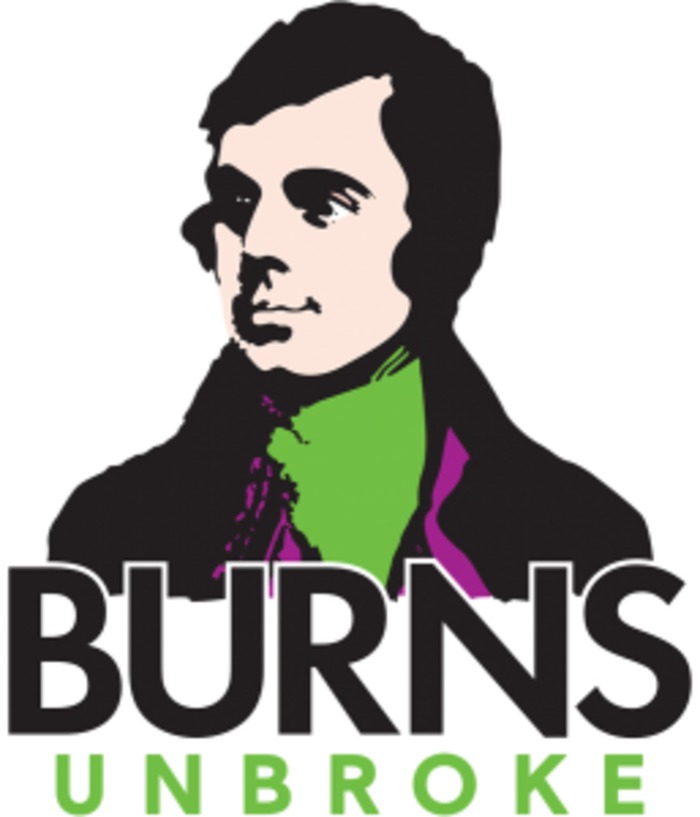 We are truly delighted to be sponsoring a new Festival which will take place for the first time in Edinburgh this coming January.
Burns Unbroke opens on 25 January 2018 at Summerhall in Edinburgh and closes on 10th March. This new, contemporary, multi-arts festival will celebrate the variety of artistic and performing practices currently on offer in Scotland, and beyond, through the prism offered by new interpretations of the life and work of Robert Burns. The inspiration for the title comes from the epigraph, which Burns marked as 'anon', printed at the beginning of his first poetry collection, the Kilmarnock edition, published in 1786.
Visual Arts
The festival's innovative visual arts programme features over 30 visual artists (list attached) and there will be newly commissioned work by four Scottish based artists. Each artist explores an aspect of Burns's life or work highlighting his continuing relevance in the 21st century and will be displayed in 11 galleries in Summerhall. On display in the exhibitions will be original art as well as editioned work which will be available to purchase. There will also be a programme of artists' talks and other events throughout the 6 week run of the visual arts programme
Performance
There will be a mix of poetry and song performances staged over the first weekend of the festival including 'folk-noir balladeer' Rachel Sermanni; poetry from acclaimed artist David Mach; Flint & Pitch which sees five poets respond to a poem of their choosing featuring Liz Lochhead, Billy Letford, Harry Giles, Iona Lee and Andrew Blair; Neu! Reekie! present An Alternative Burns Night so expect an eclectic combination of musicians, poets, haggis and whisky; and The Zoom Club – a pop-up digital art workshop mirroring the work of artist Calum Colvin.
Whisky
This is where we come in! As official whisky sponsors of the Festival, we will be hosting four masterclasses on Burns's favourite tipple and attendees will be talked through the five whiskies from our range, including our Burns Malt. As many of you will already know, ours is the only Scotch Whisky distillery to produce a Single Malt and Blended Whisky officially endorsed by the World Burns Federation.
You can buy tickets for our masterclasses now from the following link:
BUY YOUR MASTERCLASS TICKETS NOW!
An advisory panel has been appointed for Burns Unbroke: Gerry Carruthers (Francis Hutcheson Professor of Scottish Literature, University of Glasgow), Calum Colvin (Professor of Contemporary Art Practice, Dundee University), Pete Irvine (Founder of Unique Events) and Emma Nicolson (Director, Atlas Arts).
Burns Unbroke will take place at Summerhall where the visual art will be on display in 11 galleries for six weeks, from 25 January – 10 March 2018, with the majority of performance events focussed around the weekend of 26-28 January. The exhibitions will be open to the public, Tuesdays to Sundays, throughout the six weeks and entry is free.
Burns Unbroke is a partnership between Sheilagh Tennant of artruist and Summerhall, Edinburgh's most exciting new centre for visual and performing arts, best known for its innovative Fringe programmes.
The prime aims of Burns Unbroke will be to highlight the continuing relevance of Burns's words and the remarkable extent of his influence as well as attracting/inspiring new, younger audiences.
Sheilagh Tennant, Burns Unbroke Director, says "Burns Unbroke provides the opportunity, for the first time, to bring together such an impressive range of visual and performance artists under one banner."
Robert McDowell, Director of Summerhall says "You know you are dealing with a great artist when he is taxing you over two centuries after he died and will continue to tax us for centuries to come".
Sarah MacIntyre, Visual Arts Officer at Creative Scotland says: "This new interdisciplinary festival exploring Robert Burns's enduring influence and legacy will bring together an eclectic range of artists offering audiences contemporary responses to the poet's life and writing."
Dr Alasdair Allan, Minister for International Development and Europe, says: "Burns Night is undoubtedly one of Scotland's most well-known and best loved national days, celebrated by millions around the world. Burns is one of our favourite icons and he encapsulates the very essence of being Scottish – creativity, pride and confidence. Each new year millions of people from all corners of the world join hands and come together to sing 'Auld Lang Syne' together, perhaps Burn's best known contribution".
"Every year on January 25th, the day of his birth, Scots, and Scots at heart remember the life and cultural legacy of Burns by hosting a Burns Supper. Glasses of whisky are raised in toast and haggis is addressed like no other food, it is a wonderful opportunity to come together in celebration."
James MacTaggart Master Distiller at Isle of Arran Distillers, says "At the Isle of Arran Distillery in Ayrshire, our Robert Burns Single Malt is the only whisky endorsed by the World Robert Burns Federation and it's the perfect choice for raising a birthday toast to Scotland's most beloved poet. This is a sweet and creamy malt with flavours of honey and toffee-glazed pecans. Easy to drink, full of fresh citrus notes, its mellow character makes it ideal for cocktails, enjoyed by itself over ice or with a drop of water. We are delighted to bring our whisky to Burns Unbroke to provide a full sensory experience for visitors."
We hope that many of you will come and join us over the duration of the festival and enjoy a modern, forward thinking and enjoyable day out in our capital city to celebrate Robert Burns.