A Guide to Dog Friendly Holidays on Arran
Our dogs are as much a part of our family as our children, siblings and parents - so why should we leave our pooches at home when we head off on for a much needed getaway? Thankfully, Arran is pretty much the ideal destination for dog friendly holidays!
Arran is often described as Scotland in miniature form - and offers the best in scenery, food, drink, history and culture, making it the ideal location for anybody looking for the full immersive "Scottish" experience. Those with doggy entourage need not worry about having to limit their trip either - Arran is a very dog-friendly destination - with plenty of accommodation and things to do suited to your canine friend!
A Dog's Dinner and a Snooze!
As far as holiday destinations go, Arran is about as dog friendly as you can get with accommodation available for every price point. For those looking to live like the locals, you can book to stay in an entire pet-friendly house with AirBnB with price points beginning from £60. If the hostel life is more for you, Lochranza Youth Hostel (located ideally right next to our distillery) offers dog-friendly accommodation starting from a similar price point, with a £5 supplement for your four legged friend.
If you're seeking some more traditional Arran hospitality, you and your pup can be pampered in luxury at many of the islands fantastic hotels such as the Auchrannie Resort, Lamlash Bay Hotel, and the Ormidale Hotel.
When to comes to finding a suitable place to grab a bite, you'll find Arran's attitude to dog-friendliness extends to many of the pubs and delicious eateries on the island - such as the Coast Cafe Bistro in Whiting Bay! Many of the aforementioned dog-friendly hotels also host excellent restaurants. Whilst for the most part, Arran's accommodation and eateries have a very flexible approach towards pets, each establishment has its own guidelines when it comes to pet etiquette, so be sure to check upon arrival.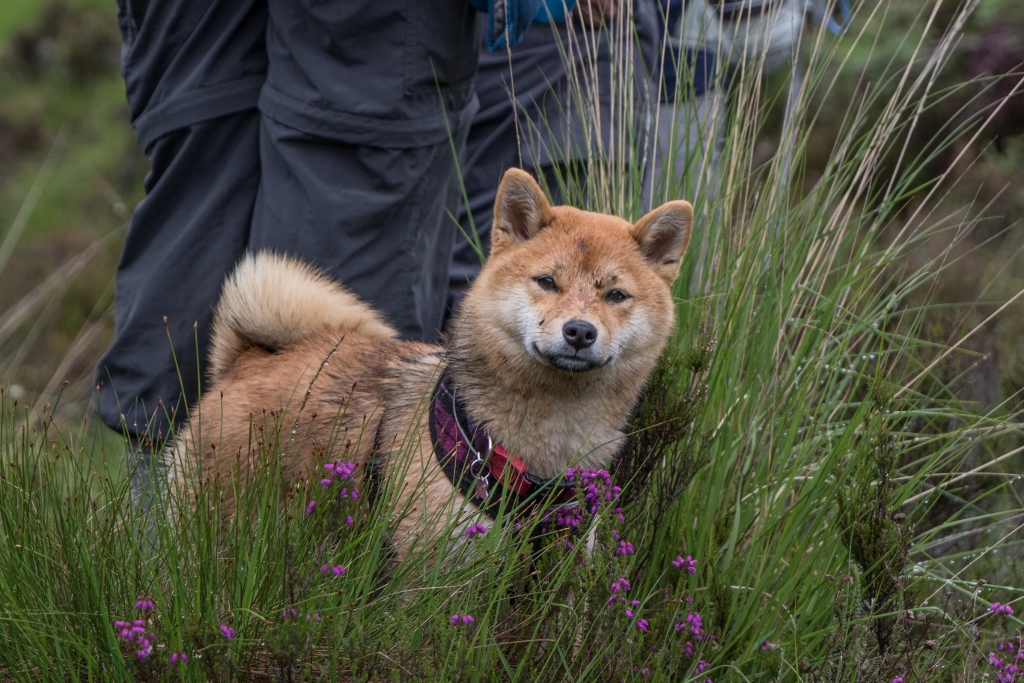 Go for "Walkies" Arran style!
A trip to Arran wouldn't be complete without taking in the breathtaking scenery our island has to offer. For hiking fans, a relatively dog friendly walk up Goat Fell, the highest peak on Arran, is a must-do.
Goat Fell can be a challenged climb, however, there are several ways up the mountain, including a fully paved path - a recommended route to take with your dog. The Goat Fell walk can be a challenging walk, however, for anybody with relatively good fitness, you can ascend and descend the mountain in between 4-6 hours. It is also a suitable walk for families with children too during the summer months, however, we recommend seeking advice during the colder and darker months. If you're not feeling too confident, Visit Arran will also be able to advise on suitable routes.
If you fancy something a little less strenuous, a trip to the Machrie Moor Stone Circles, Arran's most famous archaeological site, may be just up your street. From the foot of the walk (situated at the car park north of Blackwaterfoot), you'll be treated to a pleasant walk along easy-to-follow grassy footpaths and farm tracks leading to an atmospheric discovery of stones dating back to 2000 BC. Sheep roam free here, so you may wish to keep your dog on a lead. The walk in itself isn't very technical, however, it's a short walk of anytime between 1-3 hours.
Of course, no Arran Whisky fan and their dog could plan a hiking trip around the island without paying a visit to Loch na Davie - our water source! The Loch na Davie circuit is the definition of a trek - a long, arduous journey - however, believe us when we say the expedition to this remote part of the island is well worth it for its untouched natural beauty alone. WalkHighlands advises to complete the circuit, you can expect a trek to take 5-5.5 hours, however some may take longer - even up to 7 hours, to prepare for you and your dog accordingly!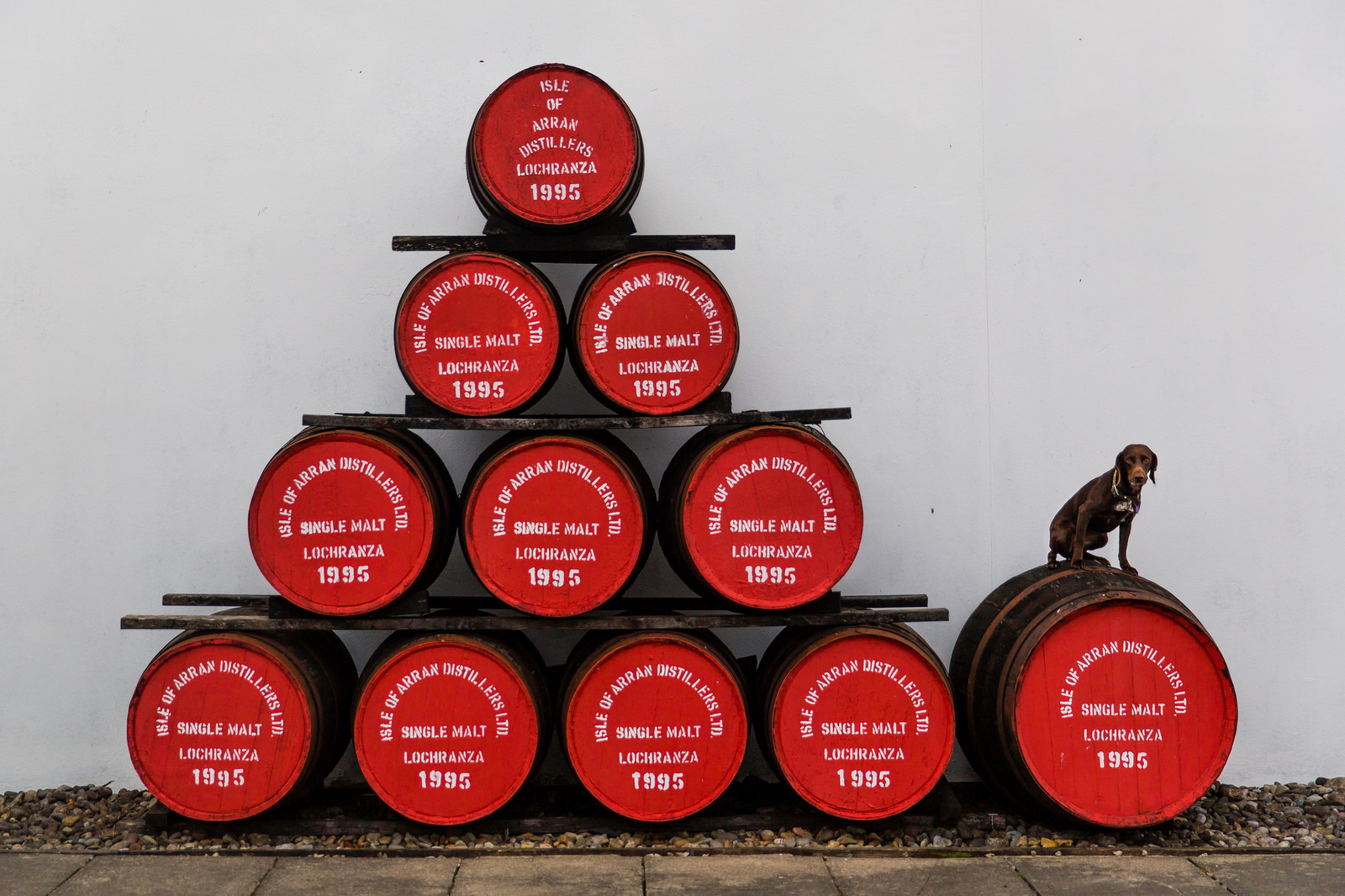 A distillery dog with a bone
If you plan to tackle the Loch na Davie circuit, be sure to factor some time in to visit us at the distillery, located at the beginning of the trail in Lochranza.
On your visit, your dog will be able to join in bag yourself the famous "dog on the barrel" shot! We're proud to be a pet friendly tourist attraction. After all, whisky is best drank in good company - so who better than man's best friend?
Whilst your four legged friend won't be allowed into our distillery or visitor centre (due to our visitors needs, such as allergies), there are plenty of places to enjoy the beautiful scenery in and around Lochranza and whilst your pooch takes a well earned rest, you can do the same and enjoy sampling our product!
Dog friendly holidays on Arran - when is best to visit?
Arran is gloriously scenic all year round - the snow-capped mountains of winter are utterly breathtaking. However, if you're planning to tackle some of the more adventurous hikes and treks with your dog, then aiming for anytime between late March and early October is optimum.
Regardless of the time of year you visit Arran, the island's dog friendly holidays are guaranteed to delight. The only question is, when will you visit next?