Arran inspired poetry
Lynne Emmerson of Hull in Yorkshire got in touch with us this week to share some poetry that she has written to share with our Arran Whisky community - inspired by The Arran Malt and our island.
Lynne explains: "I have visited Arran, and Lochranza particularly, several times considering it my heart's home. My friends from Hull run the campsite opposite your distillery - Kathy and Nigel Wells.
Each time I come I visit your distillery as my sons in law love single malt whisky and consider Arran's whiskies quite special.
Recently I was missing Arran so wrote a poem. I have already had one about Arran published by Forward Poetry in an Anthology, and it featured in a poetry festival on Arran a few years ago and I also wrote a prize winning travel story about Arran that is on Kathy and Nigel's campsite website.
This latest poem is about Arran Whisky. Please forgive my presumption but I felt it worthy of immortalising in words.
I will be returning to Arran soon and holding a poetry reading evening hosted/organised by Kathy.
I also include my first Arran poem written in the middle of a hurricane whilst I lay in one of Kathy's caravans terrified – hence its darkness."
We are delighted to share Lynne's poems below and hope that our friends in our Arran Whisky community online will enjoy reading them and the sentiment behind them as much as we have. The Arran Malt piece flows beautifully and is a perfect tribute to our Single Malt. The contrasting tone in the Dark Moon piece really captures the sense of dark mystery that might take over on a stormy island night. Many of those who have been caught in an island storm would identify with this! Thank you Lynne for sharing your work.
Arran Single Malt Whisky
Beneath the brooding mountains
O'er-seeing the rowan loch
A special brand of magic
Makes nectar out of rock
Above those rolling moorlands
Eagles guard a mountain pool
Deep amongst the hills and peaks
In a landscape bleak and cruel
Atlantic rain pours from the heavens
And fills that mountain pool
Then trickles through the granite
Hard, out-flowing pure and cool
Unto that water, rock-stained and pure
Add barley from the fields
The scent of heather comes for free
A touch of yeast makes yield
This magic where does it derive
On Arran Island by the sea
A single malt of angel's brew
Born from Nature's alchemy.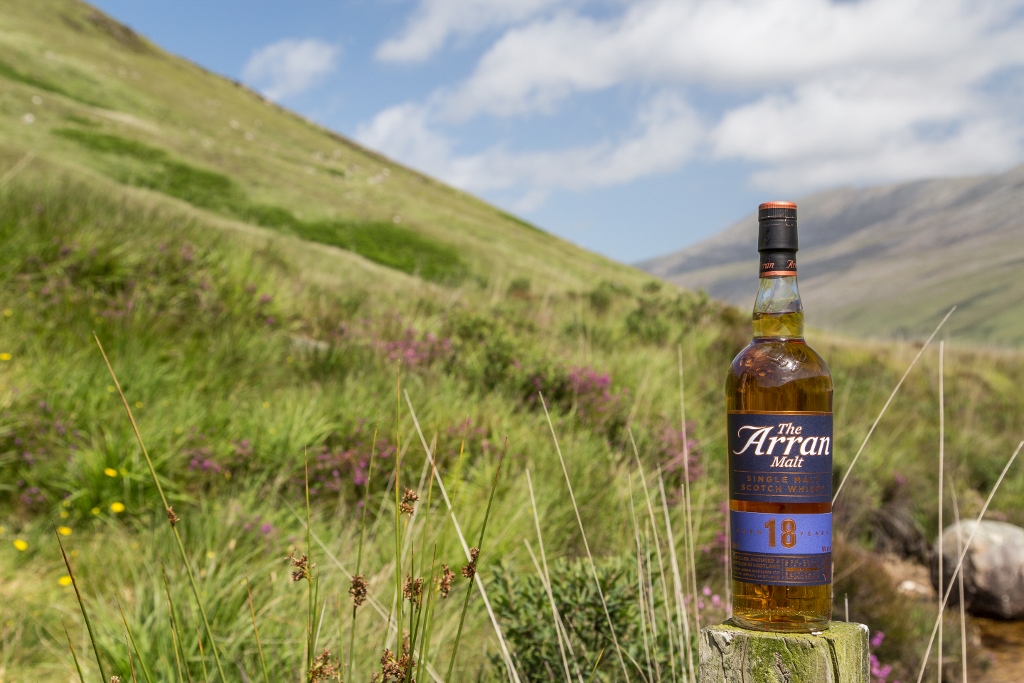 Arran Dark Moon
A dark moon rises and the ancient gods awaken;
Zephyrs howl warning ...
Whilst the bubbling burn turns angry in its bed.
Black Crow sits watchful in the arms of Mother Rowan;
While owl feathers falter ...
And the golden eagle screams, and hides its head.
Bramble thickets writhe and reach to catch the reckless;
Travellers hurry homewards ...
When the Banshee's screech announces summers death.
Pale fire flickers along the curve of Earth's horizon;
Thunder beats it's drum ...
As wild white horses ride the Fury's breath.
White gulls wheel over sea swells surging inland;
Sullen shadows swarm ...
'Cross hollow hillsides brooding by the sea.
Timid creatures shiver in the bracken in the valleys;
Time shifts its focus ...
As the island's slumbering giants stride free.
Crooked branches bow to the hoof beats of the Night Mare;
Lonely stars shimmer ...
When storm clouds race across the ink-dark sky.
Old folk lie silent whilst sleeping children whimper;
The Wild Hunt rides forth ...
And Black Crow laughs, and mocks us as they fly.
Cold rocks remember the blood of ancient battles;
Bones lie uneasy ...
As the shades of long dead warriors rise once more.
Night's conflict rages as darkness claims the season;
Summer's light retreats ...
And island life is shaken to the core.