#10DramGoodYears! UPDATE!!! 27.09.17
We are delighted to present a wonderful new limited edition of our Single Malt, which will be available from specialist whisky retailers in early October.
Master of Distilling - James MacTaggart Anniversary Bottling
In 2017, Master Distiller James MacTaggart celebrates his 10th anniversary at the Isle of Arran Distillery and 40 years in the whisky industry.
This fresh and vibrant expression of The Arran Malt has been carefully created by James to mark his 10th anniversary at our Lochranza Distillery. A selection of first fill 10 year-old Bourbon Barrels from James's first months of production with us in 2007 form the much- loved citrus fruit and sweet spice character of this dram. A memorable and classic expression of The Arran Malt.
TASTING NOTES:
Nose: freshly made cider, coconut water/fresh shavings, lemon oil and a hint of sea brine
Palate: the warmth of white pepper is immediate and then softens as boiled sweets start to show. Apple pastries, barley sugar and a complex winey note are in the mid-palate.
Finish: the finish is long and has all the freshness of a well-made whisky-sour cocktail which sweetens to candy floss as it fades slowly. A delightful expression of Arran where the true character and complexity shines through beautifully.
We will be sharing our own stories and memories from James's career on our social media pages Facebook, Twitter & Instagram over the month of September. We would love for you to join in using the hashtag #10DramGoodYears. Have you met James and had a good chat about whisky and what it means to you? Do join in - we are especially counting on all our White Stags to get involved!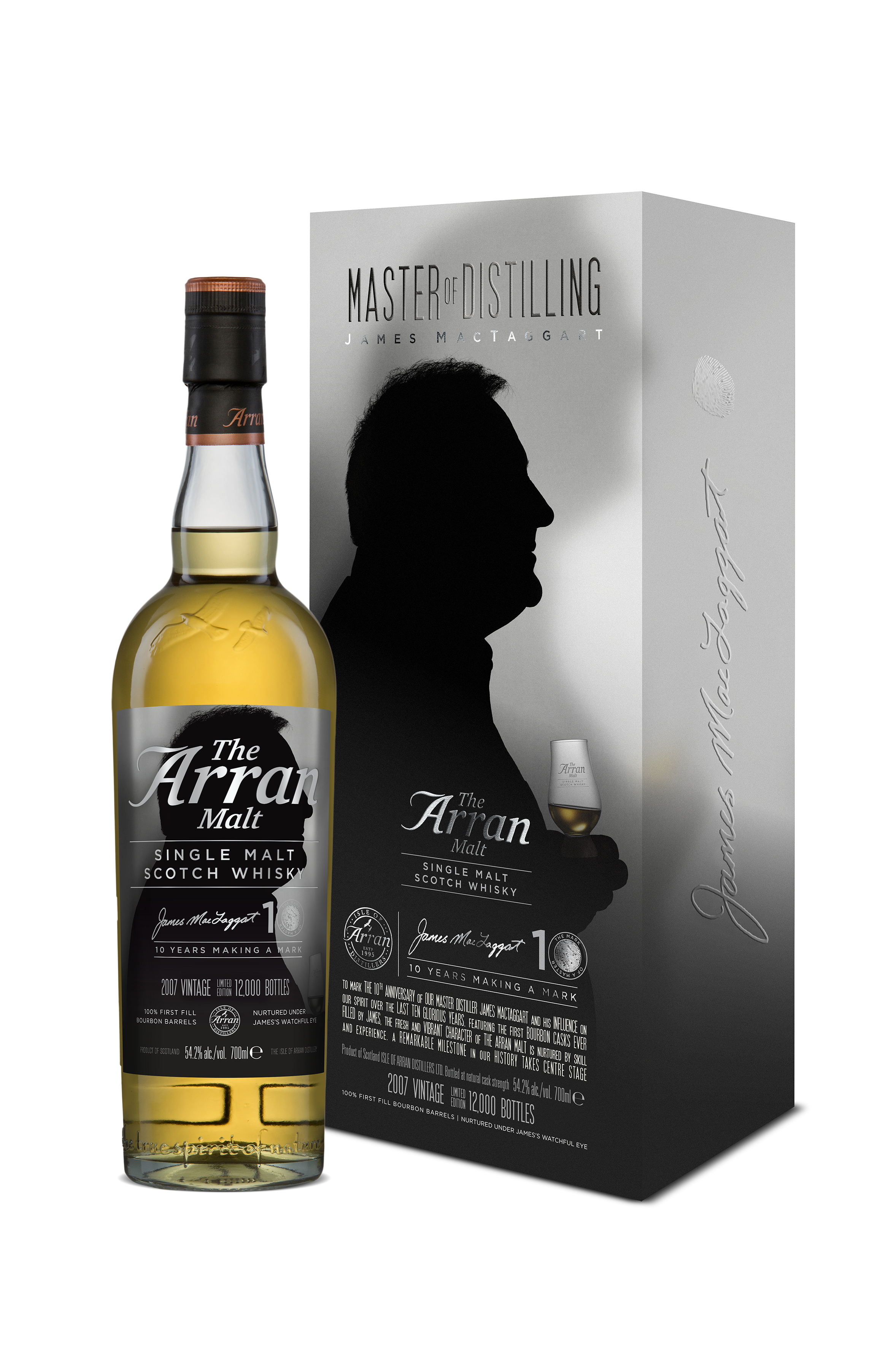 FACTS!
How old is this bottling? - 10 years old.
How much does it cost? - The RRP in the UK is £64.99.
What type of casks does it contain? - 100% Bourbon Barrel matured.
Is it peated? - No, it is not peated.
How many bottles are available? - 12,000 bottles worldwide.
Where can I buy it? - Specialist whisky retailers in your area, in our online shop (very limited quanitities) and in our Visitor Centre shop in Lochranza.
When can I buy it? - A very small quantity will be released in our web shop on Monday 16th October at 11am. Our Visitor Centre shop will have a larger quantity for sale from week commencing Monday 9th October. Our worldwide stockists will also begin receiving it week commencing Monday 9th October and this is your best chance of finding this bottle.
Is there a limit on how many I can buy? - orders in our online shop and purchases in our Visitor Centre are limited to 2 bottles per person.
Can I preorder it? You can not preorder it from Arran Whisky online or from our Visitor Centre shop. It will sold on a strictly first come first served basis. You may be able to pre-order it from you local whisky shop if they usually accept requests for this.