The Arran Malt & Music Festival 2017
We celebrated our annual Arran Malt & Music Festival at the weekend and it was truly one of our best ones yet!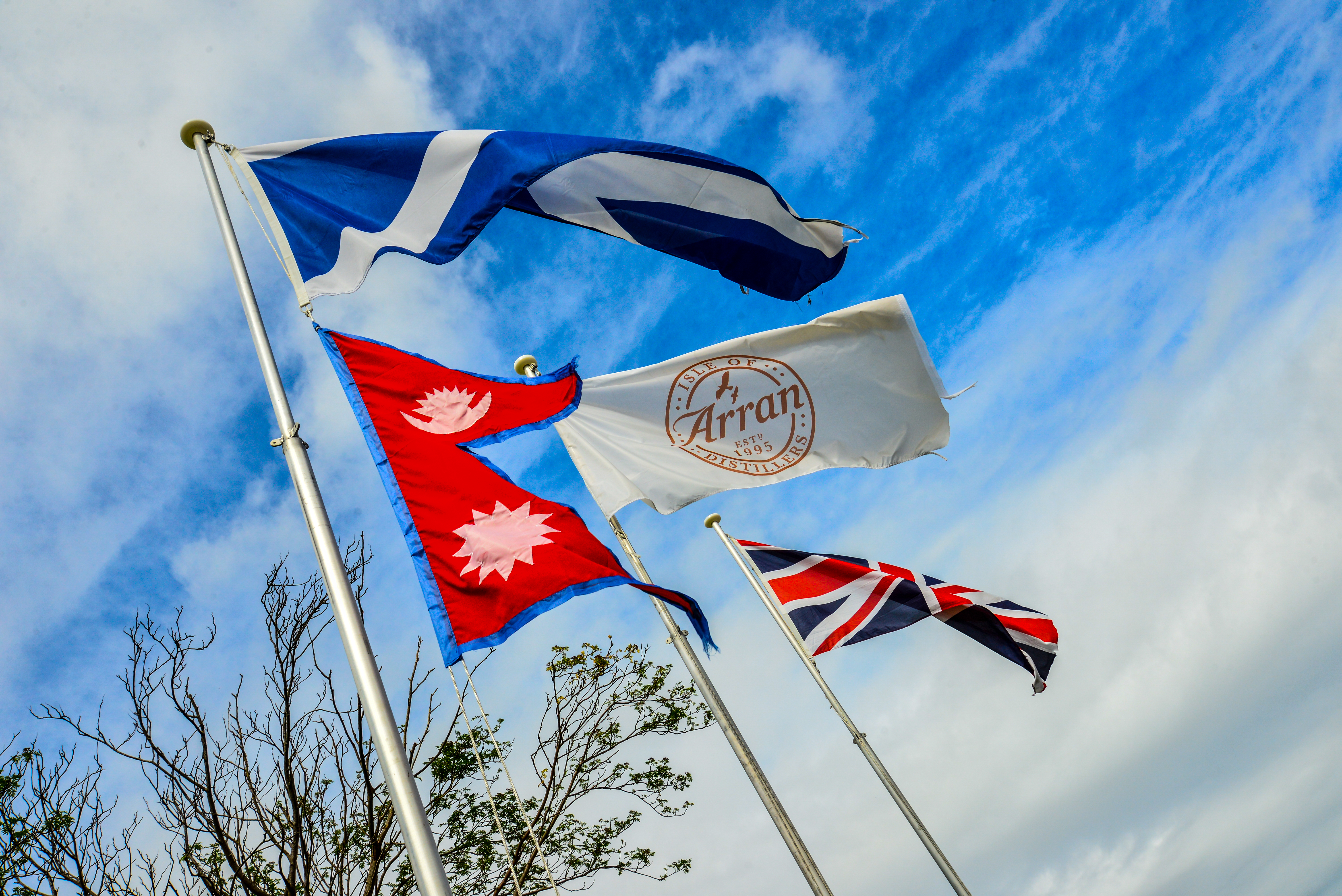 Our festivities started on Thursday as we supported the Tour de Arran, a complete cycle tour around the whole island lead by our Belgian White Stag Ambassador Jan Vissers. The group of Belgian gents, plus a Scottish and an English gent made their way around the island in fairly terrible weather conditions. We were delighted to welcome therm back to our Lochranza Distillery with a big slice of cake and a warming dram for their efforts.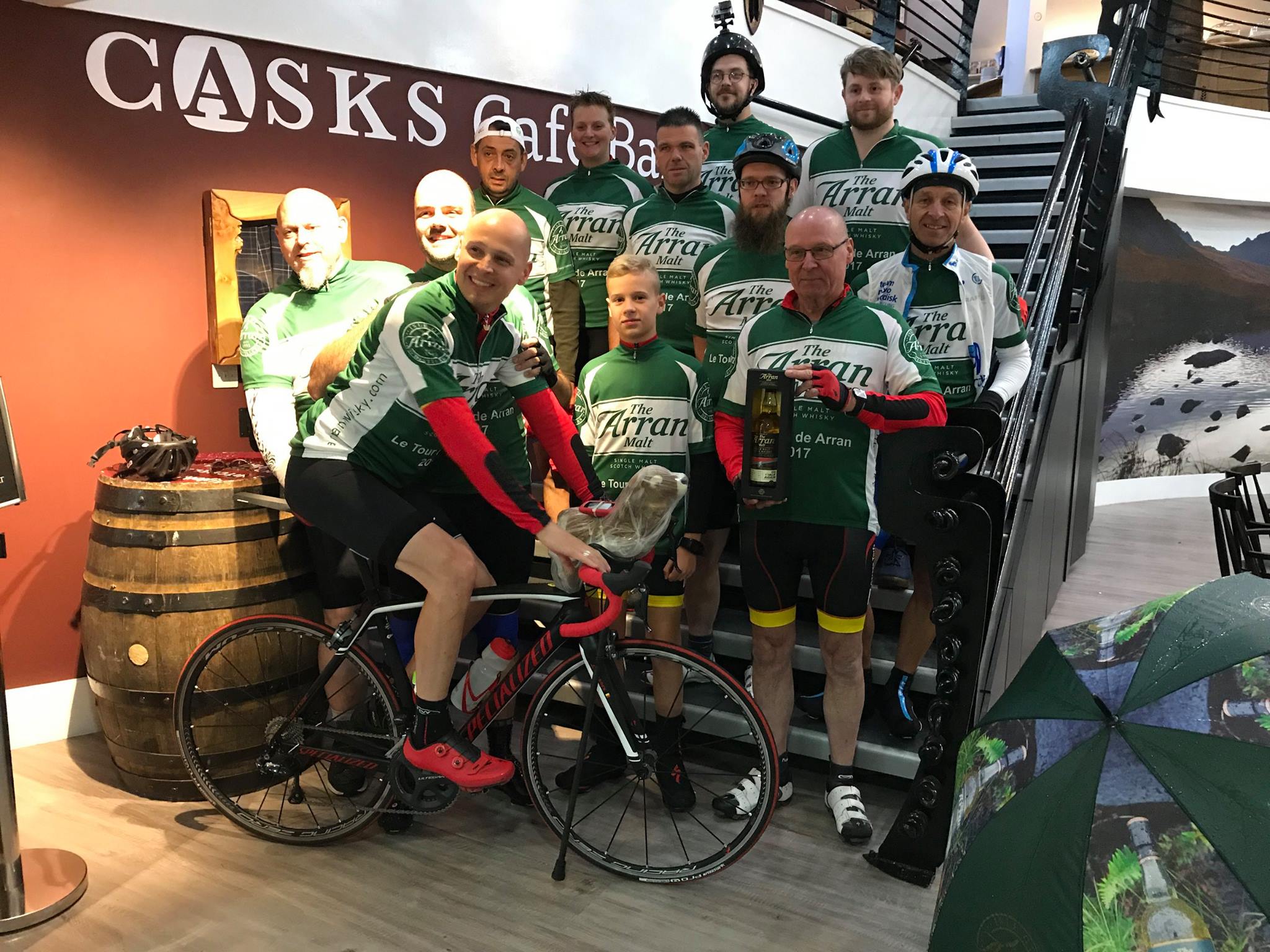 Our White Stag Dinner took place on the Friday evening in our Grand Marquee and we spent a wonderful evening in the company of our Arran White Stag friends from all over the world. Managing Director Euan Mitchell lead the evening and we took the opportunity to present our Distillery Manager James MacTaggart with a beautiful engraved crystal decanter and glasses to make his 10th anniversary making Arran Whisky in Lochranza.
We also presented our Arran White Stag Ambassadors Jan Vissers (Belgium) and Robin Russell (Scotland) with decanters and travel whisky nosing glasses to mark their position as Ambassadors of our Single Malt. A very special sample of 1995 Arran Whisky was also presented to each of them to make sure that their decanter is filled with a good dram to share with their friends!
We enjoyed a delicious 3 course meal created by executive chefs Ross Love of Braehead Foods and Scott Gilmore of Seamill Hydro. The food was beautifully complimented by a selection of our own whiskies, wine and a special Sherry which accompanied our dessert.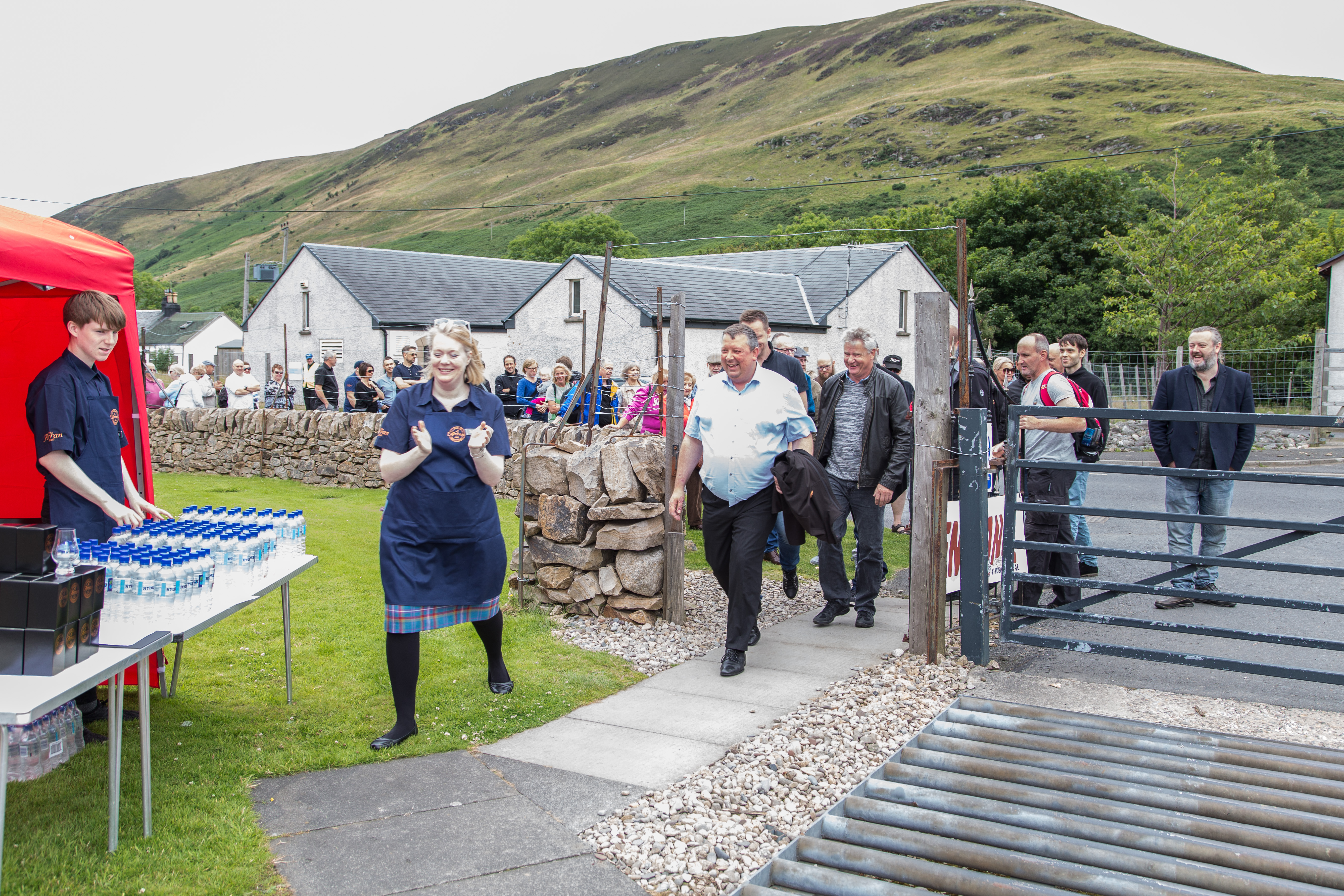 Our Festival day itself started with sunshine and promise of a day outside enjoying our whiskies in the gounds of our Distillery. The sun didn't stay out for long, however this in no way dampened our enthusiasm for the day ahead! We welcomed plenty of visitors through our doors, to take tours, tutored tastings and to explore our whisky and cocktail bars inside the Grand Marquee.
This year we were lucky enough to have the team from The Devil's Advocate Bar in Edinburgh who brought their own pop-up bar and served some delicious cocktails specially dreamed up for our event, using our fine Single Malts. We will post the recipes here on our web site in a new article.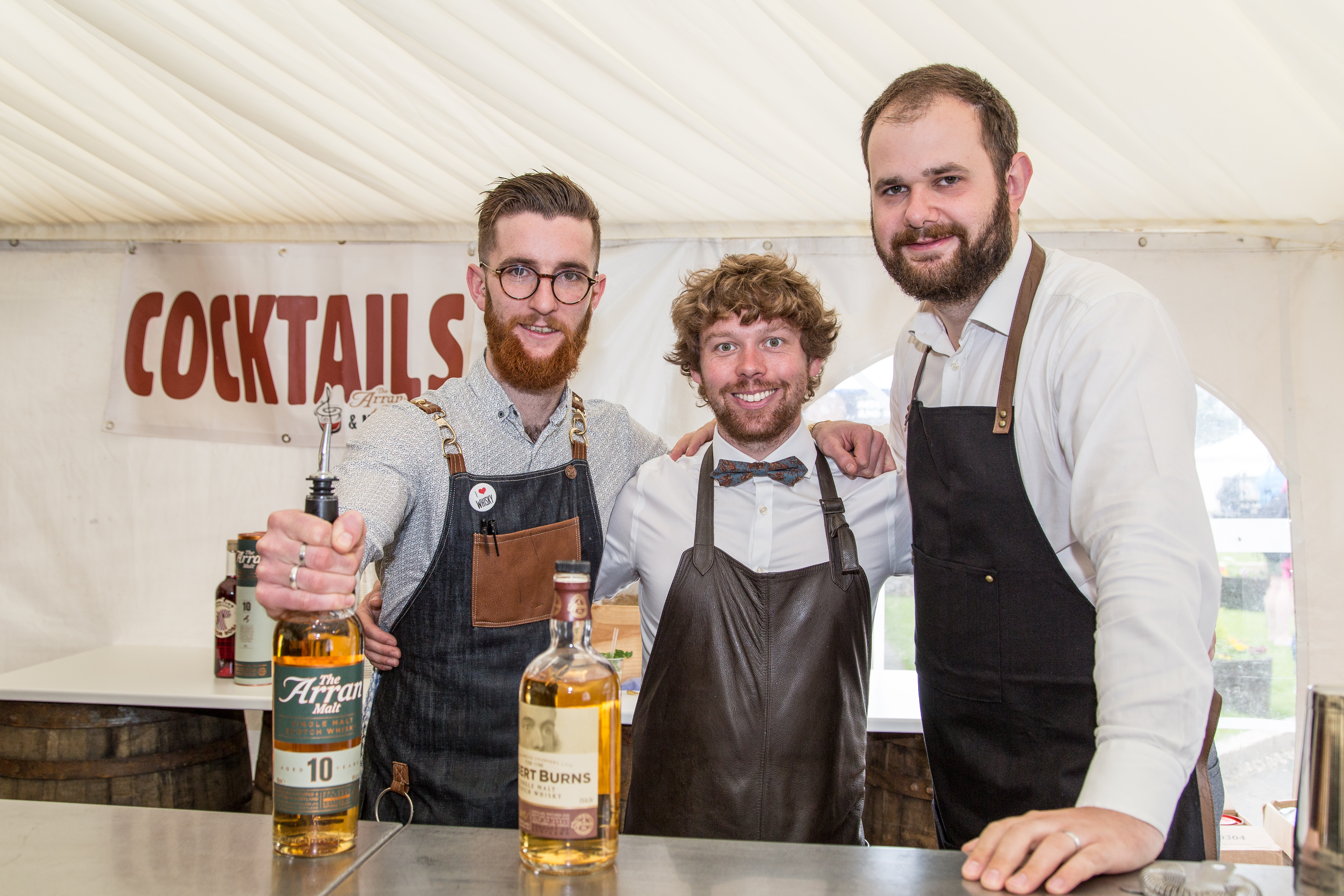 Some lucky whisky fans also managed to pick up some of our Distillery exclusive bottlings produced for the event - the annual Festival bottling, an exclusive Rum Finish Cask Bottling and a Single Sherry Cask. Stunning additions to anyone's whisky selection and only available from our Distillery shop.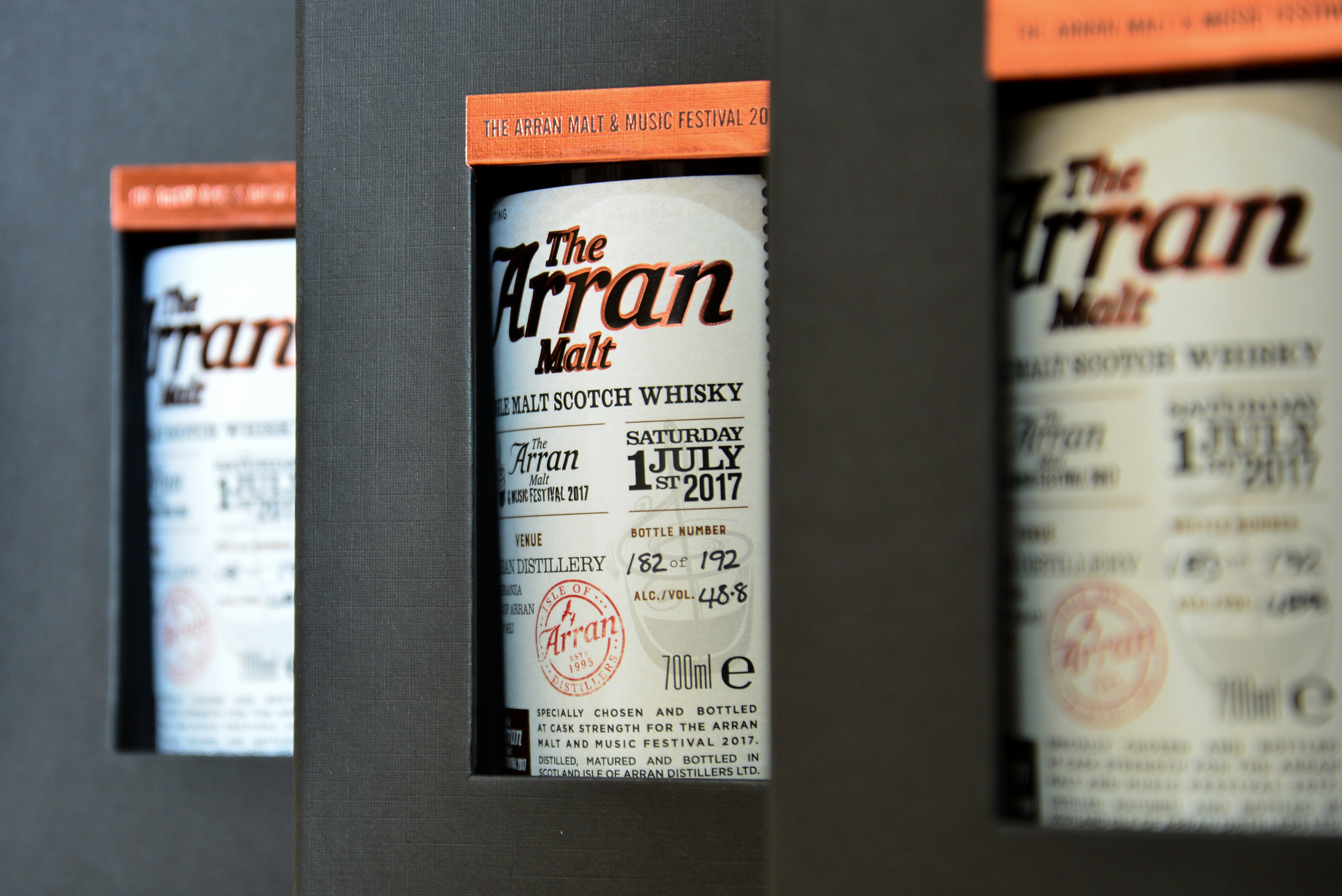 The atmosphere throughout was wonderful as we welcomed friends old and new to chat whisky, music and have a laugh. We never fail to be amazed by the strength of friendships that have grown between members of our Arran White Stag community and it's always really good fun to catch up with everyone and meet new friends to introduce to our whisky.
The day event was enjoyed to the soundtrack of some fabulous music from Arran Festival regulars The Rowan Brothers who have been amazing every single year since we started hosting our Festival. We also welcomed the Arran Pipe Band, Fat Man and The Angel, The Arran Brass Band, The Biff Simpson Trio and our very own James and The Staves.
The evening ceilidh saw us dancing our socks off to well-known traditional music band Skippinish, followed by James and The Staves once again to round off our evening. It was a real party atmopshere and everyone agreed that it was one of our best festivals yet.
Sunday was the wind-down day with the Survivor's Lunch hosted by James MacTaggart and Euan Mitchell. The survivors of the weekend enjoyed a three course lunch, cocktails and drams and good banter with our team.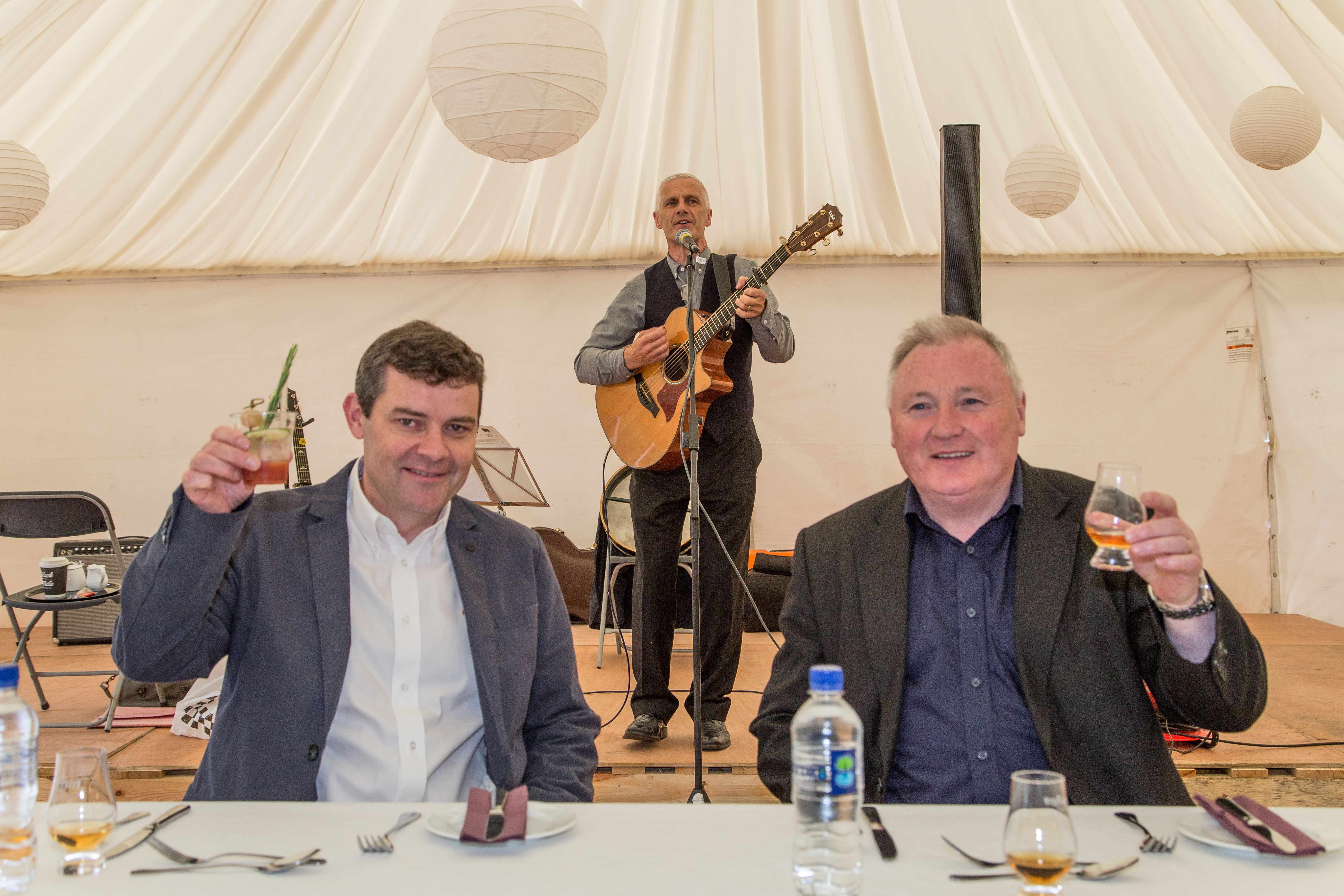 Our Festival is always a real pleasure to host and we are indebted to the great crowd of people who attend every year and make it the best fun weekend of the whisky calendar. Here's to next year!
To view all the official photos from our Arran Malt & Music Festival 2017, please come and join in the chat on our Arran Whisky Facebook page!