We are celebrating World Whisky Day - 20th May 2017
We are getting right into the spirit of things for Whisky Month and World Whisky Day on 20th May at the Isle of Arran Distillery.
Come and play 'whisky pub golf' with us and our pub/bar/restaurant colleagues from all around the island from 15th – 28th May and see if you can fill your golf scorecard!
18 of our fellow island businesses will be featuring an exclusive expression of our Single Malt between 15th and 28th May. These are private casks which have been bottled over the last couple of years for our worldwide distributors – single casks of Sherry or Bourbon matured Arran Single Malt which have been specially chosen and bottled by our distributors all over the world. Normally, these internationally exported bottles would never make an appearance in our home island however we have managed to gather together 18 of them to bring an international flavour to World Whisky Day on the Isle of Arran. 18 of the bottles have been distributed to bar, pub and restaurant friends of ours all around the island. The '19th hole' is to be found with us at our Visitor Centre in Lochranza. Collect your whisky golf scorecard from any one of our participating bars or restaurants, and collect a stamp from each place every time you try one of the private cask bottlings or any of our Arran Malts. Bring us your filled scorecard and those with 6 or more stamps will receive a miniature and completed cards will receive a whisky hamper RRP £50.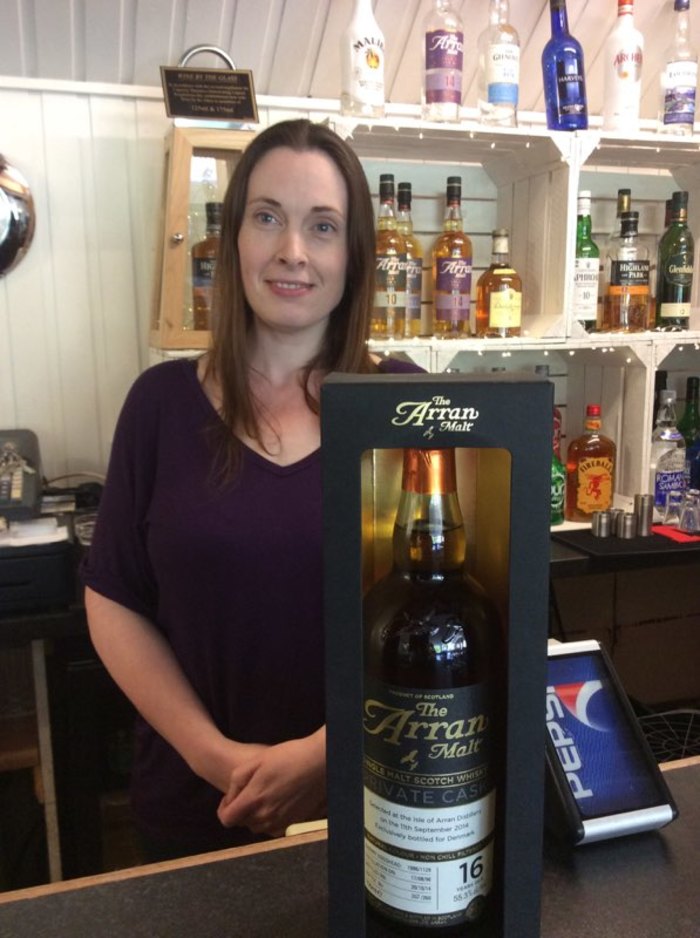 We'd like to thank our fellow island businesses as follows, for getting involved with us to celebrate all things whisky during this whisky month of May:
List of names of participating businesses"
Hole 1 Lochranza Hotel- Lochranza
Hole 2. Catacol Bay Hotel- Catacol
Hole 3. Kinloch Hotel - Blackwaterfoot
Hole 4. Black Grouse Restaurant- Blackwaterfoot
Hole 5. Lagg Hotel- Lagg
Hole 6. Kildonan Hotel - Kildonan
Hole 7. Felicity's @ Eden Lodge – Whiting Bay
Hole 8. Coast - Whiting Bay
Hole 9. Lamlash Bay Hotel- Lamlash
Hole 10. Glenisle Hotel- Lamlash
Hole 11. Pierhead Tavern- Lamlash
Hole 12. Lamlash Golf Club - Lamlash
Hole 13. The Douglas Hotel - Brodick
Hole 14. Fiddlers Music Bar - Brodick
Hole 15. Brodick Bar - Brodick
Hole 16. Ormidale Hotel – Brodick
Hole 17. Auchrannie Resort- Brodick
Hole 18. Corrie Hotel – Corrie
Hole 19. Arran Distillery - Lochranza
If you come and visit us on our social media pages, you can see more photos of each place with the exclusive Private Cask Single Malt that they are pouring for World Whisky Day. Please feel free to share your photos with us on social media and join in the conversation there with us using the hashtag #arranwhisky #worldwhiskyday #wwd #visitarran.